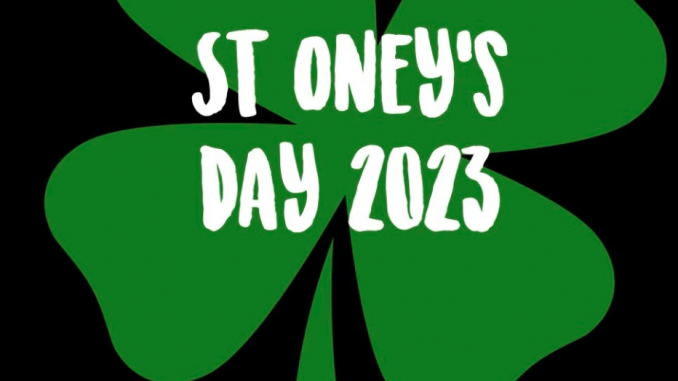 Christopher Milazzo, Staff Writer |
The weekend that follows spring break for SUNY Oneonta students is a very special occasion. With all students returning back to campus to continue their studies, there's an event all students look forward to that weekend: St. Oney's. Day. Although St. Patrick's Day was over a week ago, Oneonta students never got the chance to celebrate the holiday because it fell during spring break. This past weekend, the Red Dragons were ready to engage in the festivities of St. Oney's Day.
People start the festivities early Saturday morning, with some bars opening their doors as early as 10 a.m. At the Red Jug Pub, they were serving St. Patrick's Day-themed drinks, like green lemonades and Irish car bombs. They also had deals on Irish imported drinks, like Jameson and Guinness. The line for the Jug was out of the door, with many eager people looking for a good time. I did not personally make it to the Jug, but every time I walked past it, it looked busy and filled with people who were celebrating the college tradition. The Red Jug Pub was open all day from 10 a.m. to 2 a.m., giving the perfect amount of time to celebrate.
Another bar that celebrated St. Oney's Day was Legends. Throughout the week, they were selling green mugs and green t-shirts to help celebrate. Later that night, people crowded the bar and filled the whole room green while music was blasting. Everyone was dancing and enjoying themselves. It was one of the most popular bars that night. The whole town of Oneonta was filled with people in green attire to help celebrate the special holiday.
One of the major businesses taking part in the day was Stoneonta, which was selling limited edition St. Oney's Day sweatshirts. Stoneonta has a tradition of always releasing limited edition apparel to coincide with the Oneontian holidays, like St. Oney's Day and Santa Con. They release a new clothing item every year to help bring excitement to the holidays.
Everyone was up to something different, either heading to a local bar or going somewhere else to celebrate with all of their friends. I was able to talk to some other students about St. Oney's Day and see what they had to say about the day. "It's the best day of the year. Everyone is so energetic and ready to party and have fun, even if it's during the day," said student Kyla V., who was celebrating at the Red Jug Pub in the afternoon. SUNY Oneonta student Allie L. said, "It's really exciting that they keep this tradition alive every year and everyone still gets so hyped up for this special occasion."
If you missed out on celebrating this year, don't worry; there is always next year for you to celebrate all the special festivities the town has to offer!