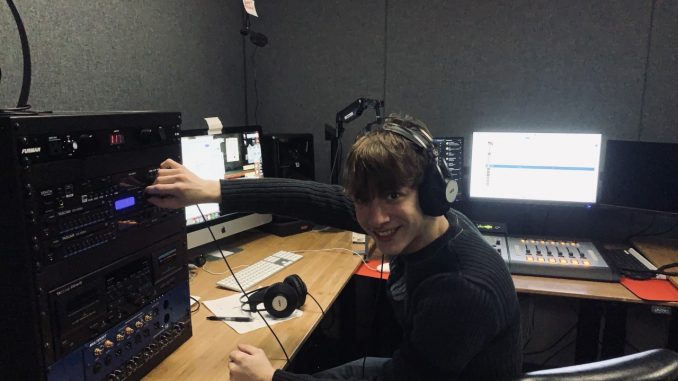 Andrew Dawson, Editor-in-Chief |
WONY FM Radio is proud to announce their new DJ of the Month for February 2023, Magnus Chenel, for his popular show, "Obscurities with Magnus".
"Obscurities with Magnus" airs every Sunday from 4 p.m. to 6 p.m. However, Magnus is starting a new show called "Fruit Salad" that will begin this Saturday. "My new show is called Fruit Salad and my friend Josh, and I will be interviewing local bands and bands from New Jersey during the show," said Magnus. He also is excited about the direction that his new show is going to take and thinks it's going to be a very fun experience.
But for all of you "Obscurities with Magnus" fans, don't be worried. Magnus plans on incorporating the same essence of obscurities with his brand-new show. "The original show was about my love of three things: music, sampling, and the tangible form. I had so much fun doing that, and it will still happen on the new show." Magnus also said his original show is very important to him and he plans on working on it in the future.
Magnus is a music industry major and a freshman at SUNY Oneonta. He started working for WONY last semester and loves the experiences he's had with the club. "My father inspired me to join WONY because he had his own radio show in the 80s and he loved playing old music that you wouldn't normally hear on the radio. I also really enjoy being a DJ for WONY. The more I'm in it, the more I want to try new things on the radio."
Through his time at WONY, Magnus realized the importance of music in his life. Music is not something new to him, but his time at WONY helped solidify his future career goals. "I would love to become a music teacher after college, but I don't want to be the third-grade teacher that hands out recorders. I want to be a high school teacher that lectures about philosophy in music," said Magnus.
Magnus' new show "Fruit Salad" will air every Saturday from 6:00 p.m. to 8 p.m., so make sure to tune in and listen to WONY's DJ of the Month!
Are you interested in joining SUNY Oneonta's Red Dragon radio and becoming a DJ like Magnus Chenel? If so, contact WONY's Training Director Azules Rule at [email protected], and don't forget to keep it locked!