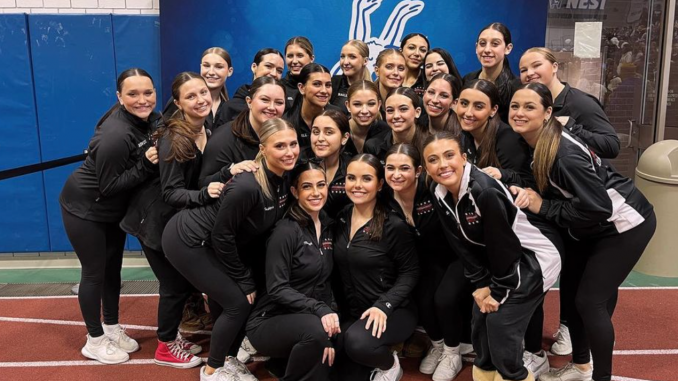 Lara Murray-Sterzel, Staff Writer |
Oneonta State Dance Team is back this semester, but they're in need of a little help. It's one thing to learn all those competitive moves, it's another to have to save money to travel for the competitions. But do not fear, our dance team won't give up that easily. "We are fundraising to support all our funds for the competition because we're going this weekend, and we love to bake. We might as well just do this," said one of the team members. The team decided to put together a bake sale to gain enough money to afford traveling for their competition. With homemade pastries, a colorful display, and Valentine's Day right around the corner, who could resist walking past the bake sale?
On Wednesday, Feb. 8, nine members of our Oneonta State Dance Team set up their bake sale in Hunt Union. I got to meet up with the dance team to discuss the bake sale and how the girls decided to come up with the idea. The bake sale consists of pastries such as chocolate chip cookies, brownies, sugar cookies, chocolate-dipped pretzel rods, cinnamon rolls, and so much more. Some were even gluten-free, allergy-free, vegan, and regular.
The team even named their favorite pastries from the sale, picking cookies, brownies, or chocolate-dipped pretzel rods. But the most popular item was the vegan cookies, having already been sold out before I arrived. When asked why they set up a bake sale rather than a clothing donation or a Krispy Kreme fundraiser, one of the team members said, "We feel that a lot of people go to Starbucks and they're like 'Oh, I want a coffee' then they go 'Oh, now I want something sweet.' So, we made these and we picked the location so people can get the best of both worlds." This turned out to be true. Hunt Union was packed with students.
Due to COVID-19, the dance team couldn't bake anything at their homes until this year. For protocol call reasons, each item had to be individually wrapped. The team went on to say they'd be interested in coming back for another bake sale depending on how this one goes. But once it's over our dance team looks forward to traveling to Massachusetts and beginning their competitions. When the girls were asked any closing thoughts about the sale, their responses were very positive. One of them said, "It's a group effort and a team effort. It kind of bonds us. We made the money together." Do you think our dance team will have a successful year in their competitions? Will you come to support our team if they hold another bake sale? Find out on their Instagram @oneontastatedanceteam or through their Twitter @OStateDanceTeam.