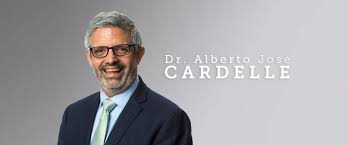 Lara Murray-Sterzel, Staff Writer |
Being president of SUNY Oneonta has not been a small task for President Alberto Cardelle. Cardelle is in charge of the school's activities, financial portfolios, and the stability of students, professors, and the community. Additionally, Cardelle must work alongside the still looming regulations of the COVID-19 pandemic. But the position he is in is also him to gain knowledge needed to make the school a better place. As of late, President Cardelle has paid attention to students' feedback and decided to make a big change for SUNY Oneonta.
On Tuesday, October 25, President Cardelle held a Dialogue Session to announce his new plan for our campus. Our president was accompanied by Karyn Wendrow, Deputy Chief of Staff and Director of Executive Communications, and Elizabeth Dunn, Dean of the School of Liberal Arts and Business during the session. President Cardelle has seen a common theme in student schedules that Monday, Wednesday, and Friday classes, better known as MWF classes, at 3 p.m. are their last classes of the day. So, beginning next semester, Oneonta will have a block of time set aside from 3-4 pm on MWF where no classes are scheduled and will be used instead for "common meeting time."
He wants to see how people use this time for themselves. Clubs could take advantage of this time to meet earlier in the day or to hold school events during this time frame. President Cardelle himself looks forward to the time block and is trying to find ways to take advantage of it. This new time set could also provide opportunities for students to engage in academic affairs with the school. This could be getting a part-time job in the Admissions Office or participating in the Academic Senate.
A student representing the Oneonta Roman Catholic Student Association came to the meeting to provide her views. She has been to several campuses where the school has a collaborative relationship with its students and is looking forward to what Oneonta's new plan will do for the school. She hopes that it will increase communication between professors and students. As you can tell, everyone has taken a liking to this idea and wants to see what the school might do with it. President Cardelle wants students to embrace their ideas to help bring a more inclusive sense of community to Oneonta campus.
Even though the time set won't come until next semester, we have the remainder of this semester to experience the last of 3 p.m. classes our school will offer. How do you feel about the time set? Are you looking forward to it? Will it be a success as President Cardelle is hoping it'll be? Only time will tell.