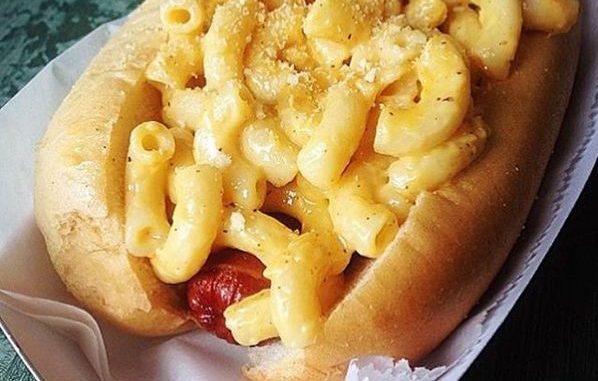 John Martello, Copy Editor and Treasurer |
If you go to Oneonta, you will know the atmosphere of Main Street on a Friday night. As your night is ending, you are faced with one of the most difficult decisions a college student has to make; what to eat. As you stand on the corner of Main and Dietz Street, you have three options to choose from. Turn right, and head into Tino's Pizza, known for its cold cheese slice. On your left and a little bit down the road, you will see Sal's New Classic Pizzeria, known for its fun atmosphere and specialty slices. But, what about the white trailer parked outside of the Red Jug Pub. What delicious treasure does this trailer hold? In that trailer rests the superior Oneonta late-night snack, the Mac Dog.
Now, there are a few questions we must address. For example, what is a cold cheese slice? What pizza place on Main Street sells it? Which one sells the best slice? To begin this cache of questions, we must first discuss what a cold cheese slice is. A cold cheese slice is an Oneontan invention. Simply put, a cold cheese pizza is a slice of normal pizza, with a mountain of shredded mozzarella on top. Since the pizza just left the oven, the shredded mozzarella acts as an automatic cooler, allowing you to dig in as soon as you purchase it. The sheer weight of the slice itself cannot be supported by a singular paper plate, so make sure you ask for a second plate on your way out the door. Also, make sure you have a beverage of choice ready because you will need it! Tino's Pizza and Sal's New Classic Pizzeria both sell cold cheese slices, and the debate about what place sells a better slice is an entire discourse of its own.
But, located between the two pizza spots is Gooch's Food Truck, home of the Mac Dog. How does one make a Mac Dog? Well, a Mac Dog consists of a warm hot dog in a bun with macaroni and cheese piled high on top of it. At first sight, this odd combination of foods seems repulsive. I must agree, when I first tried it, I was very skeptical about what I just spent my money on. But just wait for that first bite! You will realize that the Mac Dog dethrones the cold cheese slice as the superior Oneonta late-night snack! Aside from the glorious Mac Dog, Gooch's Food Truck also serves macaroni and cheese, pulled pork, and chili. When ordering from Gooch's, always carry cash, as the Truck does not accept cards.
What do you see yourself devouring as you walk down Main Street? I find most people always select the safe and always tasty, cold cheese pizza slice from Sal's or Tino's. But you will find me waiting in front of the Red Jug Pub for Gooch's Food Truck to order a Mac Dog. To fully embody the Red Dragon experience, this Mac Dog must be consumed while walking. You must not stop at a bench on Main Street to enjoy, it must be eaten while walking! It makes it taste all the better. Come down to Main Street on Friday night to decide for yourselves!