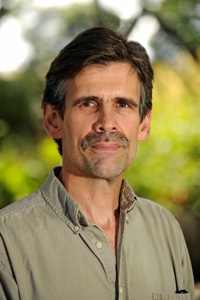 Sonia Espinosa, Staff Writer |
SUNY Oneonta's English Department kicked off their first night of The Red Dragon Reading Series with guest author, Tom Fate. Tom Fate is a professor at the College of DuPage in Illinois and was welcomed back at SUNY Oneonta after about a decade from his first guest reading. He currently has over six books published, including, "Special Memoir" and "Cabin Fever", which were inspired by David Thoreau, even referencing him as 'the great social distancer'. Fate has been featured in The Boston Globe, Iowa Review, and NPR. He is known to be a writer who challenges his readers to live in the natural world, and gain useful information from his writing, unlike what technology has done to our social lives.
His most recent book, "The Long Way Home", features two essays, one grappling with his father's death due to Alzheimer's, and the other relating to his mother's passing due to COVID-19. Fate began his introduction with a question: "Where do you call home?" He lived in Chicago, returning to Iowa every six years, his true home despite his idea of home having evolved. Fate refers to his time spent at the South Dakota Pine Ridge Indian Reservation where he connected home to a physical and spiritual meaning that taught him the phrase, "I am related to all that is."
In his section now 'Out of Iowa', he writes of county fairs in the middle of July and mowing lawns along with bailing hay. Fate's favorite memories with his father were fishing. He describes the rush once one catches their first fish, compared to the uneventful waiting. Fate also spoke upon his relationship with his father, as he sometimes projected his own anxieties onto his son, once like how his father did to him. Fishing for them was a quieter and happier time.
Fate also questioned why students today are in so much debt, compared to how he once worked a full year's tuition in the summer. His tuition in the 1970s cost about $900, which many guests in the audience were baffled by. Teaching in the Philippines, Fate learned that there are possible cultural implications between his students back in the states versus overseas. During a typhoon in the 1990s, he gave his Composition students a paper on the prompt, "what is love?". Fate found that his students in the Philippines gave more analogies, compared to his American students giving textbook definitions of the word 'love', being vague and concrete.
Fate finishes his excerpts with a video clip of his time in the Andrews Forest in Oregon, describing that over time, things change. We become part of a whole; 'life into death and death into life'. He ends his reading with a quick Q/A, describing his work with the Lakota people as 'transformational', learning that his body is the earth. Fate encourages his readers to take on reactive thinking rather than reflective, along with the understanding that time is an illusion, a human construction. The Green Toad Bookstore is currently selling Fate's memoir along with some of his other inspiring pieces. The Red Dragon Reading Series will be hosting two other events this semester bringing other contemporary writers to campus.