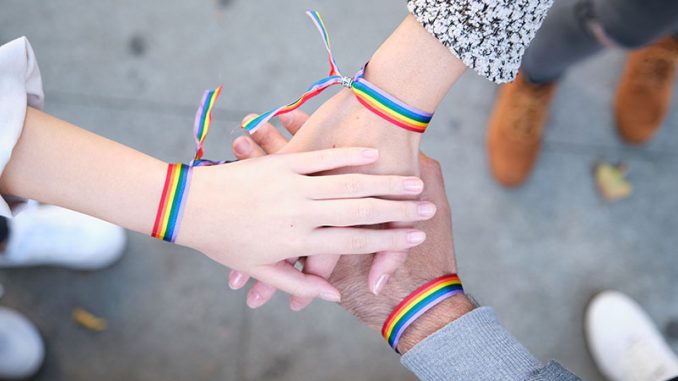 Sonia Espinosa, Staff Writer |
The Gender and Sexuality Resource Center began its Fall Dialogue Sessions with a workshop on "Queering Self-Care". The session was taught by the Women's and Gender Studies' very own Dr. Chloe Diamond Lenow. The event took place in Hunt Union's Butternut Valley Room where students and faculty received an intimate and personal meditation along with tips on how to practice self-care as a college student juggling a busy schedule.
Dr. Chloe Diamond-Lenow is a yoga instructor, teaching in town along with conducting campus events meant to aid students in gentle restorative movement practices. The session began with a brief exercise of practicing breathing along with stretching out tired muscles from the long school day. Some chose to lay on the ground to gain a more comfortable experience, while others stayed in their seats and closed their eyes to relax.
Dr. Diamond-Lenow, along with the Gender and Sexuality Resource Center's Coordinator, Emily Phelps, began the dialogue with how each person in the room was truly feeling now. Most felt exhausted, which was normal as the day had been winding down. However, students took the time to express themselves as the dialogue shifted towards how one reflects on their own self-care. Dr. Diamond-Lenow encouraged community care, because indulging in capitalist products such as skin formulas and bath bombs can be fun, but it won't always make us feel whole. Being able to be with friends that make us feel comfortable enough to be ourselves and free is an act of self-care many expressed. Being in the queer community, some spoke about how it has not always been easy being able to let self-care be a priority. The peers in the group felt heard and seen as the dialogue led to a more vulnerable and emotional topic point.  
Dr. Diamond-Lenow shared a quote from the late feminist and author, Audre Lorde that wrote: "I have come to believe that caring for myself is not self-indulgent. Caring for myself is an act of survival." Members of the dialogue spoke about what that means to themselves and what one can do better in the journey towards self-care. Faculty members shared how prioritizing mental health is the first step, by not answering emails straight away and putting furry friends first, and many students agreed.
Dr. Diamond-Lenow ended the session with another mediation round, where most peers felt safer letting themselves get into the exercise as the professor taught the 4-7-8 breathing technique. This technique is also known as the 'relaxing breath', that can help mend anxious feelings along with feeling calmer and restful. Students felt at ease after this final exercise.
Faculty members let their presence be known as a source of guidance and resource if any student was interested in further discussion and tips. Dr. Diamond-Lenow will be conducting various events involving yoga in the upcoming months along with the GSRC's Dialogue Sessions to come in the upcoming weeks ahead!