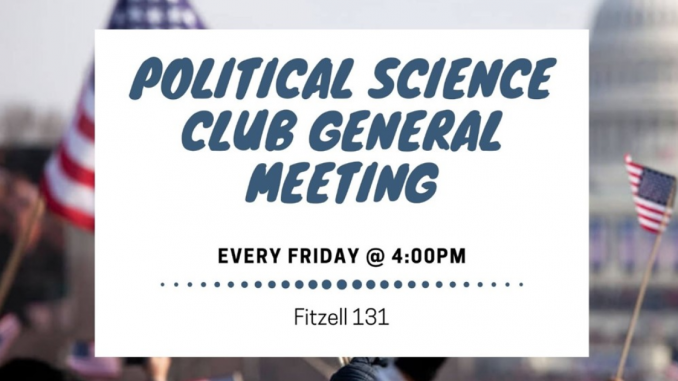 Lara Murray-Sterzel, Staff Writer |
SUNY Oneonta's Club Expo gave students the opportunity to explore various clubs available on campus. Despite its obvious success, some clubs wanted to have their own Club Expo event. "We really wanted this because politics can really get swamped out at Expo, and people can just walk by us. Especially when they see words that they're familiar with but maybe aren't really educated on. Stuff like Republican, Democrat, Democracy, or Liberty. So, we want to have this specific exposé so you couldn't avoid it if you were interested," said the president of Democracy Matters. The Political Science Mini Club Expo provided options for students to learn about political science clubs on campus.
On Wednesday, Sep. 21, the Political Science club hosted their event in the Butternut Valley Room in Hunt Union. The first club set up at the event was the College Democrats, led by President Kyle Quimet, who wants their club to advocate for a better and safer community. The club has regular meetings every Monday at 5:30 p.m. in Fitzelle 130. You can also follow them on their Instagram @SUNYOneontademocrats. The second club set up was the College Republicans Club, led by President James Marcy, who wants their club to thrive to make just as much a difference in their community and succeed in their ideas. This club has meetings every Monday at 5:30 p.m. in HIRC Lecture Hall 7. The next club set up was the Political Science Club, led by club President Michelle Schneider, who wants the club to educate members on Congress, elections, voting registration, and the future of our country. The club meets every Tuesday at 5:30 p.m. in Fitzelle 203. And the last club present was Democracy Matters, a non-partisan student-led activist group advocating for a free and fair Democracy. This club has meetings every Friday at 3:00 p.m. in Fitzelle 105. You can also follow them on their Instagram @dmoneonta.
"I think having us all together is great, especially right before midterms because each of our clubs has its own mission. Whether that be for their own club, it's kind of nice being together," said Elizabeth Larli, Vice-President of the College Democrats Club. Alec Woodruff, President of the Young Americans for Liberty club, spoke about how students automatically assume that the clubs are enemies based upon their belief in their party. But, he revealed that is not the case and despite their differences, all the clubs get along very well. "We wanted to get everybody in one room to hang out and show that we all get along and have a good time. That the political science clubs are a mini family and whoever's going to stop by will stop by, but the real point of this was to catch up," said James Marcy, President of the College Republicans Club. Each club looks forward to its goals this semester and to getting started on making a difference in their government.