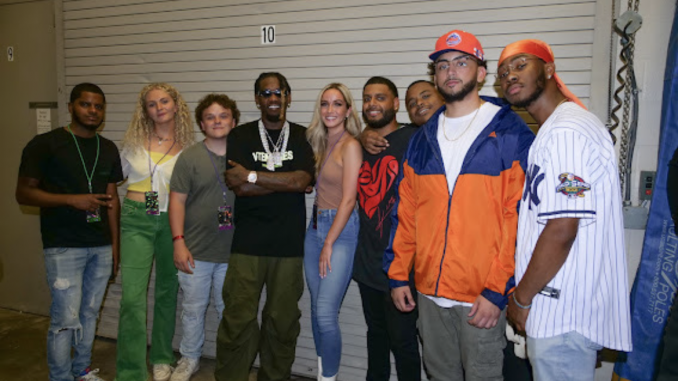 Andrew Dawson and Ashley Hopkins, Editor-in-Chief and Culture and Business Editor |
On Saturday, Sep. 3, SUNY Oneonta held its first fall concert in nearly three years featuring Running Lights and Offset. The concert was worth the wait as Offset had a legendary performance that will keep our Red Dragon students buzzing for semesters to come.
The venue for the concert was the Dewar Arena and the doors opened at 7 p.m. General admission for SUNY Oneonta students was $10 and guests paid $25 for entry. Hartwick students were also allowed to come and had to pay $25 for general admission.
Prior to Offset's performance, The State Times very own Andrew Dawson (Editor-in-Chief) and Ashley Hopkins (Culture and Business Editor) had the opportunity for an exclusive interview with Offset.
Dawson asked Offset who has been his favorite artist to collaborate with, and who he would like to collaborate with in the future? Offset said, "I don't necessarily look at it as artists but with producers. My favorite producer to work with is the producer who created 'Ric Flair Drip' with me, Metro Boomin. And I look forward to working with Metro Boomin in the future." Offset and Metro Boomin are very successful working together, grossing over 1,000,000 sales for "Ric Flair Drip." This was Offset's first song to go platinum as the leading artist. Later in the interview, Offset shared his feelings about his hit single, and said he was most passionate about creating "Ric Flair Drip."
When asked about advice to give to SUNY students, Offset replied, "Stay focused. People may not support at first, but don't be discouraged and afraid to be different." He mentioned he heard about SUCO's amazing music program and pushed those who are interested in the field to work hard and follow their dreams.
Offset has had countless hits from his group Migos to other solo projects, and it seems the rapper has no plans of stopping any time soon. While he couldn't go into too much detail, we can look forward to new music in less than three months.