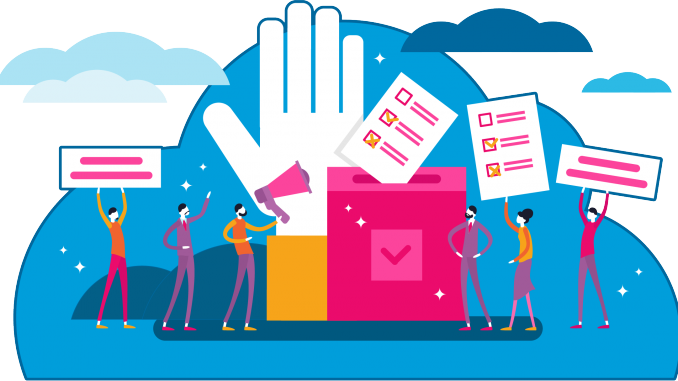 Lara Murray-Sterzel | Staff Writer
Politics is a complicated subject that we cannot agree on in today's society. We are either in full support of one political party or completely against it; But what about young politics? With what we have experienced so far, can we learn and try to shape it back into an inclusive system of beliefs? Everyone must start somewhere, so why not start in the form of the Young Americans for Liberty club here at Oneonta? This club discusses and debates current events happening on campus and how the student body can make a difference.
Even though the Club Expo was rescheduled, the Young Americans for Liberty club wanted to have their first meeting. To get the word out they posted on the Corq app about when their first meeting would be and that all were welcomed. On Thursday, Sep. 8, Young Americans for Liberty's President, Alec Woodruff, began the meeting about what their club is and what they do on campus. He spoke about the importance of mobilization and activism in their club, along with how they are guided by good leadership and ambition in making the changes students desire.  
"So, I didn't start this club. Before I even came to Oneonta, I was always a very liberty-minded person. I heard about The Young Americans for Liberty organization through researching and seeing things on Instagram. After a couple of days of thinking about it, I made a couple phone calls and ended up getting involved in activity counseling, which led to me being here," said Woodruff about his beginnings in the club.  
Woodruff spoke about the club having its biggest accomplishment this year in the pepper spray fight, which gave students on campus the right to carry pepper spray in their bags in case of an emergency. "We've been working on that since February. As far as other things or concerns, we haven't had anything serious since the Pandemic," Woodruff went on to say. When asked if he felt that people feared admitting what political party they belonged to when attending the club meetings, Woodruff responded with an uplifting answer: "I don't ever call this club a libertarian club, even though realistically we are a libertarian club, I say we are a liberty-minded club. It doesn't matter if you're Republican, Democratic, or independent. If you want to fight for liberty on this campus, and in our country, you have a home here."
You can join the club in making a difference every Thursday at 5:30 in Fitzelle 131. The Young Americans for Liberty Club already looks forward to what is to come this year, with one of the events being a Constitution Day with college representatives on Sep. 16.