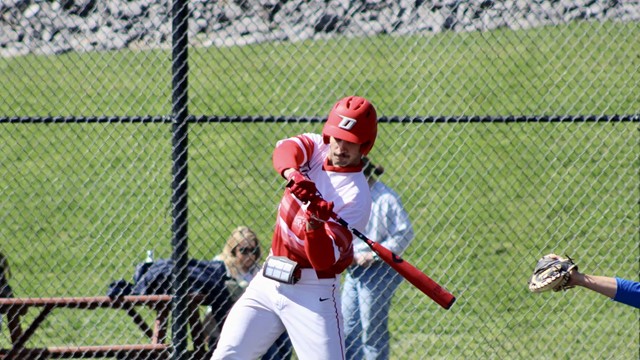 Nicholas Winograd, Contributing Writer |
The SUNY Oneonta Red Dragons defeated the New Paltz Hawks in the first leg of the doubleheader on Apr. 23, by a score of 3-2. In what ended up being a fascinating pitcher's duel, both starters, Michael Losak and Bobby Ramsey, shined, going six innings each, and striking out a combined ten batters. The game started off strong for the Red Dragons as right fielder Anthony Foglia wasted no time crushing a Ramsey two-out pitch over the left-field fence. Foglia, who had three RBIs in yesterday's game, picked up right where he left off, giving his side the early advantage with his third homerun of the season. After getting out of the first inning, Hawks' starter Bobby Ramsey made two mistakes in the second inning. First by walking Andrew Bonilla and second for leaving a pitch in the strike zone for Patrick McGee, who hammered the pitch over the wall in left field as well, making the score 3-0.
That three-run cushion would be all Michael Losak needed for run support as Oneonta never trailed in the game. After four innings of Losak mowing down New Paltz hitters, the Hawks finally broke through in the top of the fifth, courtesy of an unearned run plated by junior Justin Harvey, who grounded out, scoring Leo Alvarez. Losak however did a good job of not letting the unearned run get to him, as he struck out second baseman Tommy Kreider to end the inning. After a clean bottom of the fifth, New Paltz left fielder Justin Ortiz singled to start the sixth and was able to make it all the way around to score thanks to some sneaky small ball played by the visitors. After his base hit, he stole second, advanced to third on a walk, and scored on a passed ball, cutting the Red Dragon lead to just one. With the passed ball, both Hawks' runs ended up being unearned.
As the game moved into the final inning, Oneonta manager Ben Grimm asked right-hander Logan Carriero to get the last three outs, looking for the game one win. Carriero did just that, forcing two ground ball putouts and a strikeout. While only picking up three hits on the day, the pitching was the Red Dragons' strong suit, as they rode the fine efforts of Losak and Carriero to victory. With this result, the Red Dragons picked up their ninth win of the season and have their eyes set on sweeping the second game of the doubleheader later today.