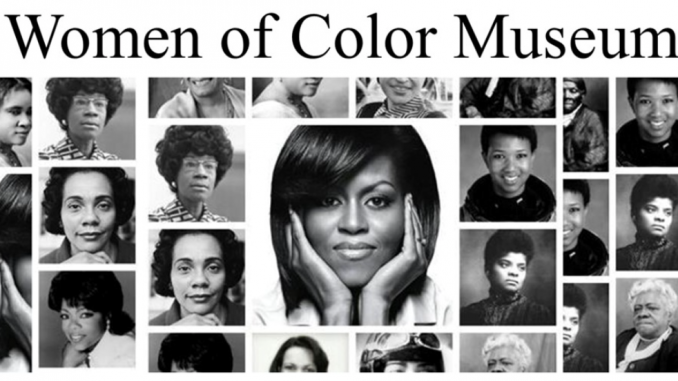 Kyora Wallace, Staff Writer |
On Mar. 31, Hunt Union presented an exhibit from The True Black History Museum, called Women of Color- A Tribute to the Contributions of African-American Woman that showcased African American Women's contribution to history.  
Before you entered the exhibit, there was a table set up with stickers and mini notebooks. With the theme of the day being girl power, the notebooks and stickers had messages like "The Future is Female", "Babes Unite" and "Fight Like a Girl." Masks were required for this event, but they had you covered. There was a selection of "Black Lives Matter" masks and a sanitizer machine right by the door.  
The True Black History Museum is a traveling museum created back in 2010 by Fred J. Saffold, who hosted the event. He said, "We founded this museum for two reasons, number one to preserve the history of African American people." Most historical artifacts and customs related to African history have been lost or forgotten because of slavery and racism. So, the museum aims to show what has been lost to time. He went on to say, "Number two, to share with the world that the people of African descent have made significant contributions to the world."  
Once you walked in, you were greeted by different artifacts from African Culture. The first table that was set up displayed jewelry, combs, and Mud and Kente cloths. These items were essential to everyday living in Africa, but most were lost to slavery.
The second table contained artifacts from America's racist past. Items like 1700s Slave Shackles, a court order determining the value of slaves, and racist postcards.
The next table's display was dedicated to racism during Jim Crow. They showed KKK membership cards, postcards from lynchings, and items that show the Mammy caricature. A Mammy is a stereotype of an overweight, black woman who takes care of white children. Because this was a popular image at the time, her likeness became sold on the cover of books, pins, and other common household items.  Although this may sound dreary, these were not the only items displayed in the exhibit.
The next table is dedicated to the prominent women in the Civil Rights Era. The table shows a newspaper published announcing the death of Rosa Parks, and buttons of Angela Davis. Saffold said, "History is everywhere, you just have to look for it." With over 500 artifacts in the collection, he revealed that some of the pieces were family heirlooms. He said, "No matter whether you intended to be impacted by it or not, the artifacts are going to draw you in."  
The next few tables highlighted the achievements of Black women in the arts and sciences. These artifacts included signed photos, books, and published articles about their successes. This display took up the most space in the room including Maya Angelou, Ida B. Wells, Katherine Johnson, Mae Jemison, Oprah Winfrey and so many more!  
The last table was for Black women's contribution to sports and law. These tables also included signed photographs and celebrated women like Venus and Serena Williams, Michelle Obama, and Gabby Douglas.  
The exhibit had two main goals, one being to empower. The contributions of black women in society are so often overlooked, so to have something to commemorate their efforts is inspiring to all people. The second goal was to educate. Since their achievements are so overlooked, they often get forgotten or unnoticed. It also showed that black people have a much richer history that goes beyond oppression and slavery.