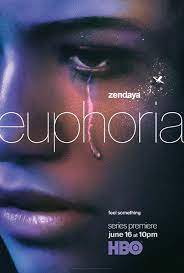 Alexa Di Palermo
After two long awaited years, fans of HBO's Euphoria have been gifted with a second season of the show. Ever since the new season began streaming, fans have been raving about it on social media platforms, throwing weekly watch parties, and talking about it constantly around campus! Once I heard that the first episode of the new season crashed HBO, I decided I had to watch it for myself. I have officially caught myself up to the most recently released episode, episode five. This show has put me through many emotions, and I have emotionally attached myself to it. If someone asked me if they should watch the show, I would tell them to have HBO Max open and ready every Sunday night at nine o'clock.
To begin with, the acting in the entirety of the show is amazing. Especially Rue, played by Zendaya, who won an Emmy for her performance in this show. Zendaya, former Disney actress, has mastered playing a teenage drug addict. The audience has had many emotional responses to her performance, and after the fifth episode of the second season, they are demanding that she wins another Emmy Award.
Zendaya is not the only one who excels in their performance, we also see Sydney Sweeney embody Cassie, Alexa Demie embraces the fierceness of Maddy, and Jacob Elordi go from lover boy Noah in The Kissing Booth to bad boy Nate Jacobs in Euphoria. All the cast, not only those mentioned, perform their characters in a way that strikes emotional turmoil within the audience. It is easy to relate to any of the characters in the show, as they do deal with real life problems and display them in an accurate way.
Additionally, the way the show is written is amazing. Each episode has left me at the edge of my seat wondering what could happen next. Although, as an audience who has grown used to Netflix and having new seasons released all at once and hates waiting a week for a new episode, I have learned to appreciate it as much as I do dislike the wait. Each cliff hanger leaves me shaken up and waiting for more. The week gives the audience time to chat and theorize about what could happen next, which makes the anticipation and excitement while watching that much better.
Lastly, I like the fact that the show can portray real life situations without sugar coating them. Watching TV nowadays, it is hard to find a show that I truly connect with and can relate to. Each character emotes in such a genuine way, and the dialogue is as rough as reality would be. It feels good as an audience member to know that these problems are finally being portrayed and looked at in an authentic way.
So yes, I would recommend watching this show to a friend. But a piece of advice is to watch with care. Since situations like domestic violence, toxic relationships, drug addiction, and child pornography are shown so accurately, this can cause overwhelming emotions and make many remember situations they may not want to remember. If you or a loved one is struggling, to help, text "EUPHORIA" to 741741 or call the SUNY Oneonta counselling center at 607-436-3368 (a 24-hour crisis call line is 1-844-732-6228). Stay Safe Oneonta!