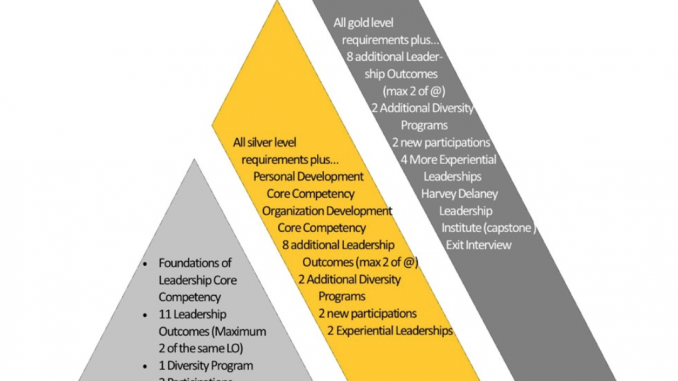 Kyora Wallace, Staff Writer |
There are many questions surrounding our school's LEAD (Leadership, Education and Development) program. "LEAD is an optional micro-credential that students can use to demonstrate leadership experience in a way we know employers and grad schools are looking for," said Bill Harcleroad, LEAD Program Director.
There are many benefits associated with LEAD credit. "It is an incredibly valuable resume tool," said Harcleroad. You can gain credits from campus events that apply to the program. The LEAD program offers so many events every semester. From Club Chuck to uest speakers, they offer something for everyone. Harcleroad mentioned that after graduating, students have said, "they went to and enjoyed events that they would not have gone to otherwise. It made them stretch their boundaries."
Since there is always something going on LEAD events offer an opportunity to learn and try new things. Another big benefit is the honors that come with it. LEAD is one of three distinctions you can get at graduation. There are different levels you can get in the program: silver, gold, and platinum with varying requirements for each. The Silver and Gold level can get you cords at graduation and platinum gets you a nice, shiny medal.
LEAD is one of the many services offered on campus to help students post-grad. The program exists to give students the experience of working collaboratively, hosting events and other things required in the professional world. College is a prime time to gather up all the experiences and connections that could help you secure the career you want in the future.
"Harcleroad said, "80% of employers look for the world leadership on resumes. Understanding that this is free and it's something that can really help them get past that first round of screening is important." Harcleroad said student participation could be higher. An average 15.5% percent of students graduate with a LEAD level, which is more than most colleges, but that number could absolutely be higher. "I don't think we do such a good job of letting students know that their outside of classroom experience is important as well," said Harcleroad.
This, in addition to the pandemic, hasn't had the best effect on the LEAD Program."When people were doing everything online the thought of getting online to do an optional program was too much for people, everyone was overwhelmed with video calls," said Harcleroad. But don't go feeling too bad. The desire to get back to some sort of normalcy has rebounded the program. Although the numbers are less than what they used to be, they are still on the rise.
With 832 current students involved, LEAD isn't going anywhere so it's never too late to start taking advantage of it. One of the upcoming events includes a visit from Dr. Bernard Layfette. Dr. Layfette was one of the original Freedom Riders and is coming to talk about the best way to advocate for civil rights in these times.
Harcleroad said, "We may transform some of the LEAD outcomes because one of the goals of the UN Sustainability Development is to have students understand global cultures, and we don't have that currently." Keep a lookout on the Corq app and Campus Connection for more LEAD credit events! (And tell them I sent you!)