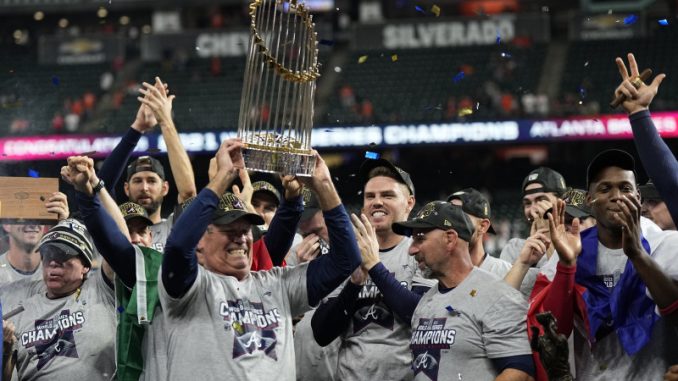 Chelsea Sookra, Staff Writer |
The Atlanta Braves and Houston Astros battled it out this week to determine who would win the Major League Baseball (MLB) World Series in 2021. The Braves won game one of the World Series by a score of 6-2 on Oct. 26. The Astros responded the next day, tying the series 1-1 after beating the Braves 7-2.
Atlanta won games three and four, giving them a two-game lead in the series. The Astros on the other hand, were not quite ready to give up. The Astros had to win game five of the World Series to keep their hopes alive. In dominant fashion, the Astros overcame an early deficit, beating the braves 9-5. Though, Houston still had to win the next two games in the World Series to be crowned 2021 World Series champions.
If the Astros wanted to force a game seven, they needed to win game six. The first two innings went by without incident, with neither team scoring a run. The Braves then came out in the top of the third inning, scoring three runs on a three-run home by Jorge Soler. The Braves had a three-run lead over the Astros until Dansby Swanson hit a two-run homerun in the top of the fifth inning, bringing the score to 5-0.
For the Astros, things were not looking good. The Braves added to their lead in the top of the seventh inning, when Freddie Freeman blasted a two-run home run, bringing the final score to seven to zero. The Braves hadn't played in the World Series since 1996, and this time they were determined to win. Despite the fact that the Braves lost their starting pitcher in game one and then another one of their greatest players, Ronald Acuna, Jr., to an ACL injury early in the season, the Braves worked hard and overcame the odds.
During the middle of the regular season, the Braves were third in their division and their playoff chances looked slim. However, the Braves got hot at the right time, winning their division and becoming the 3-seed in the National League playoffs. This hot streak was led by one of their best players Jorge Soler, who didn't disappoint in the playoffs. Soler's playoff performance crowned him the 2021 World Series Most Valuable Player (MVP).
So, rejoice Braves fans, the long World Series drought is finally over. The Atlanta Braves are world champions once again.