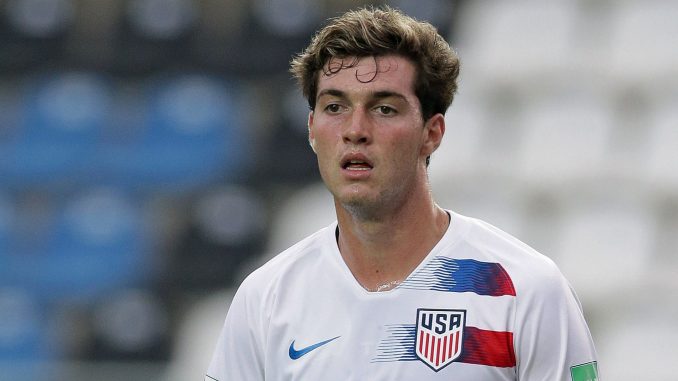 Casey Ryder, Contributing Writer |
On Thursday of last week, the United States men's national soccer team named it's 25-man roster for their upcoming World Cup qualifiers against Mexico and Jamaica. Among the fanbase, there was no shortage of anger and frustration about which players were called up and who was left off. However, there was one aspect of the roster that almost everyone seems to be excited about. The inclusion of 18-year-old defender Joe Scally from Lake Grove, NY on Long Island.
Scally has been a standout player this season for his club, Borussia Mönchengladbach, in Germany playing all but nine minutes of the team's 11 league games so far this season. Scally is representative of the modern day right back in the sense that he's not only a terrific 1v1 defender, but he also loves to support the offensive attack. Borussia Mönchengladbach sporting director Max Eberl said about Scally, "He's really been our player of the season so far… he came from the USA in January as an 18-year-old, played with the reserves and got used to Germany a bit, and now he's playing very well."
Before he was competing against the likes of Robert Lewandowski and Alphonso Davies, Scally played on a team called Sachem Destroyers on Long Island. Brendan Glasser was a teammate of Scally's and said "Growing up playing with Joe, my teammates and I knew he was going to be something special. He basically controlled the middle of the field against any team we played. Whenever we played top teams, he was still the most effective player on the field and I looked up to him a lot as a teammate that played beside him. Seeing him where he is today is really something special, but I can't say I'm surprised. These high-level teams that Joe has played for have really put him to the test but he's well used to that. He has done nothing but excelled. I can't wait to see what else is in store for Joe, especially for team USA."
In 2015 Scally took an important step in his development. He joined the academy of New York City FC. It is here that he would play alongside current national team players Gio Reyna and James Sands. It is also here that he would be converted from central midfield to right back.
Scally impressed so much in the academy that in March of 2018 he signed an MLS homegrown contract with the club, becoming just their second ever homegrown signing at the age of 15. He'd go on to spend the 2018, 2019, and 2020 MLS seasons with the club. He only received a handful of minutes, however, as he was very young and the club felt there were better options ahead of him.
Then in November of 2019 after impressing at the U-17 World Cup in Brazil for the United States, it was announced that he had agreed to join Borussia Mönchengladbach in January of 2021. The reason for the delay is that American players who do not have European passports cannot go to Europe until they are 18.
The European soccer season runs from August-May and when Scally joined in January, there wasn't much opportunity for him to break into the first team and as a result, he spent almost all of last season playing with the reserves.
This past summer in preseason is where he had the opportunity to prove his worth with the first team. He took the opportunity with both hands and by the end of preseason, his manager Adi Hütter said that of all the young players Gladbach has he was the "closest" to the first team. He has continued that form into the regular season starting all of the team's league games and has performed exceptionally well.
All of this has culminated in Scally earning a call up to the US men's national team for their upcoming games against Mexico and Jamaica.
It's always cool to see people from your area excelling and doing big things and as someone from the same school district as Joe Scally, I'm excited to see what the future has in store for him.