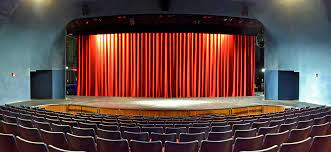 Victoria Smith 
This week, I sat down for a virtual interview with the advisor of the drama department, Scott Segar. I asked Segar about COVID safety, the challenges this semester, and what we can expect from their upcoming show Noises Off.
I asked Segar about the precautions that are being taken to ensure the safety of the drama department. "We're still following all the SUNY guidelines. So, everyone is rehearsing with masks, everyone not on stage is masked. For the first show, The Revolutionist, everyone provided proof of vaccination. Three weeks prior to performance, they were given permission to only the cast to start performing and rehearsing without masks. They were tested weekly, vaccinated, and then they formed their own bubble, so they weren't interacting outside of their performance group. We're following those same protocols for our next show, Noises Off. All the crew and everyone who isn't on stage; they will be masked. We're doing our best to keep everybody safe and healthy." Segar explained that there were hurtles to jump before things started looking up for performances within the theater department. "We put together an entire proposal and protocol and sent it through the dean and the COVID response team. They signed off on following protocol of being able to perform without masks."
When asked if the students are more anxious about performing this semester due to COVID, Seager responded, "I think everybody is struggling with various levels of anxiety, uncertainty, and fatigue. I don't think these students are too different from the population at large. I know there is a lot of eagerness and excitement to get to a place that feels even fifty percent normal. Just being able to get people into an auditorium to see a show was a big deal. Some of the responses I have seen have also expressed how thankful they were to be able to come and see something in person."
Now, onto the question that I'm sure many of you are asking: what can we expect from Mask and Hammer's next production, Noises Off? "I know it is an incredibly high paced, high-energy show that is a good show for right now. I think people could really use a little bit of time away from the heaviness of everyday life. It's a comedy, a lot of innuendos, practical jokes. It's a show I think a lot of people will enjoy for the ability to escape for a couple hours. It's a funny show and this particular performance will hold to that."
Segar encourages everyone to come out, see the show, and have a good laugh. Tickets for Noises Off will go on sale in Hunt Union on Monday, October 25th. Dates and more details for the current and future shows can be found on the Mask and Hammer's page on the SUNY Oneonta website.