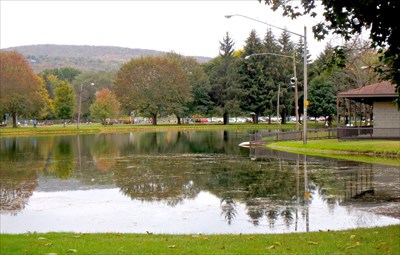 Ashley Hopkins, Staff Writer |
The City of Oneonta Environmental Board had its first meeting of 2021 this past Thursday, Oct. 14th.
When hearing "environmental board," most would think that the committee is involved with things like planting trees and how to make the city more eco-friendly, but the board does much more than that. Established in 1970, the environmental board's role has taken on new meaning as the years have gone by.
In their meeting, they elected a new board chair, Kevin Schultz. Schultz has been a part of the board for the past few years and is an Associate Professor and Chair of the Physics Department at Hartwick College.
Additionally, three new members of the board were approved by the common council: Paul Bischoff, Dane Ainsworth and Mike Forster Rothbart. Bischoff has lived and taught in Oneonta for 20 years, running the science education programs. Ainsworth said he uses the parks every day to walk his dogs and is "invested in the environment and the wonderful things that the city has to offer regarding nature." Rothbart is a photographer with a background in urban planning and watershed management and is also a part of the Oneonta Susquehanna Greenway Committee. He said that he wants to help the Oneonta Environmental Board coordinate with the OSGC as well.
Schultz acknowledged that there have been a lot of new faces cycling in and out of the committee, but said now it's time to "rethink how we're moving forward."
Like most of the city meetings, there is a portion of the meeting set up for petitioners to voice their concerns or ideas. One petitioner said that the city should do more to help the poor, and think about ways that volunteer work could help this problem. Schultz agreed and said that the committee should have a bigger outreach and think about different ways to get members of the community involved to volunteer. He also recommended having a bigger social media presence to spread the word and get people together for these sorts of projects.
The Environmental Board is also to thank for keeping the city looking its best. More specifically, Lucille Wiggin, a long-time member of the board, has made this her mission. This was her last meeting before stepping down from the board, and all of the members agreed that she would be greatly missed. Lucille mentioned that more attention needs to be paid to areas in the city that are untended, specifically when it comes to weeding. It was acknowledged that situations like this are hard to solve because it is hard to find people who want to help with upkeep. "Most people don't know how many people are working to keep this city on track," said Wiggin.
Mark Davies noted that "public service is challenging because we are not paid." The Environmental Board is completely made up of volunteers, and many of the public service acts that they do such as tree planting and community gardens are also done by volunteers, which are hard to come by.
As a student in Oneonta, it would be nice to see more students get involved with projects to help beautify our city and make it feel more like a community. Many clubs and Greek life organizations do community service, and this may be a great opportunity for the students of Oneonta and the Environmental Board to work together on projects in the Oneonta community. As mentioned previously, the board is also looking to grow their social media presence, and this may be something that a student who is looking to go into social media can help them with.
Public service programs like the Environmental Board aren't paid much attention to– especially not by the younger population. More people need to understand the importance of these programs. Much of their work goes unnoticed, but they make our community what it is. It is important that we do our best to try and aid them in their efforts to make a beautiful city for us.