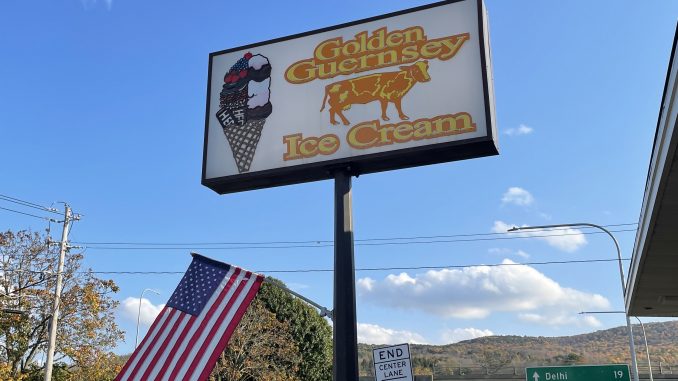 Ashely Hopkins, Staff Writer |
Midterms week is finally over, and I'm absolutely thrilled. As a junior this year, I've had an incredibly busy workload, and I've found that it is absolutely necessary to treat yourself once in a while in order to not go completely insane.
I'd been craving something sweet but didn't have the time or energy to make cookies or a sweet treat at home. After being away from Oneonta for basically two years due to the virus, I kind of forgot about all of the food options our city has to offer. Driving home one day, I happened to glance to my left and see an ice cream shop called Golden Guernsey. It's a little shop, the outside is painted red and has a very no-thrills, old-school vibe to it.
I dragged my friend Steph along with me to see what it was all about. You can order from the walk-up window or inside the shop. As I said, it's very no-thrills. The inside just has a few tables, old school menus hanging above the counter, and the ice cream cases.
Their ice cream menu has a lot of the usual flavors that you would expect at an ice cream spot, like French vanilla, Oreo cookie, cookie dough, mint chocolate chip, pistachio, coffee, and chocolate chip. Some of their flavors are more unique like "piece of cake," "death by chocolate," maple walnut, orange pineapple, butter crunch, and "white lightning." They also have unique soft-serve options like peanut butter custard, black raspberry custard, and vanilla coconut milk. You have the choice to have your ice cream in a cup, sugar cone, or waffle cone, and they have toppings like sprinkles and smarties to throw on top.
I decided on maple walnut. I don't know about you, but I'm that person who can never finish their ice cream. I get too tired of the taste after a while. However, I had absolutely no problem finishing my small cone, and wish I had gotten a bigger size. It was creamy, not too many walnuts, maple-y, and just the right amount of sweet- not too overpowering. My friend got the same flavor and agreed. We even contemplated asking them for a to-go container, it was that good!
Golden Guernsey doesn't only offer ice cream. They also make quick bites like hamburgers, hotdogs, chicken tenders, mozzarella sticks, onion rings, mac 'n cheese bites, and salads. While I didn't indulge in any of that during this trip, I definitely will be doing so in the future.
The best part is that they are great for a college student budget! My small cone was only $2.50, and the most expensive item on their food menu is only $8.50! This would be a great spot for a date or hanging out with friends.
Stop by Monday-Saturday from 10:30 a.m. to 8:30 p.m. and Sunday from 12 p.m. to 8:30 p.m.