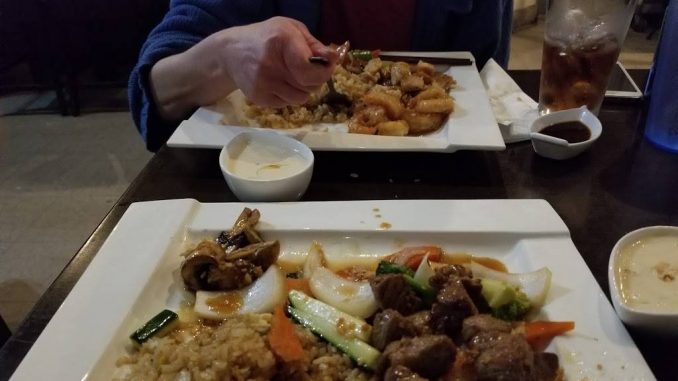 Alexa Di Palermo, Staff Writer |
Imagine this: its movie night. You and all your friends are gathered in front of the TV and you picked the perfect movie, but what's the perfect movie without the perfect food to go with it? No one has any idea of what to get, but you read this article and know that Tiger Asian is a perfect choice. By the end of the night, all your friends will have their favorite takeout place in Oneonta.
This past weekend, I decided to make a trip to Main Street and give the place a review. I can't help but be biased, because it is my favorite, but I do have to be honest about one thing. The exterior of the restaurant can use some work… it is not the most updated and can make tourists, students, or parents walk away. But once you walk in, the vibe of the place immediately changes. It is cool and comfortable on the inside. The staff is incredibly friendly, and the menu has options for all diets.
My group and I all ordered multiple items, of course, as most of the items are priced fairly. I ordered many items myself. To start, I ordered the Fried Cream Cheese Wontons (Also known as Crab Rangoon). I, personally, love this item. I can say it's an item that requires an acquired taste, but I love it. The crisp outside shell gives it texture, and the warm and creamy inside had a burst of flavor. I recommend ordering this appetizer (but I would not order this item if you cannot eat fish or dairy).
Next, I ordered my entrees. I was super hungry (and wanted to take home my leftovers), so I ordered the Chicken Lo Mein and a Philly Roll (with a side of fried rice). The Lo Mein was amazing. The noodles have lots of flavor and are not dry. The chicken had the same traits and eating the two together was amazing.
I was not a sushi person until now, and the first kind I tried was the Philly Roll. The texture was weird for me to get used to at first, but I ended up enjoying it a lot. I now eat Philly Rolls every time I get sushi. The side of fried rice was very nice. It was warm, had lots of flavors, and is good to take home and eat later in the day as well.
Jessica Murray, another SUNY Oneonta student, had Tiger Asian for the first time recently. Murray describes it as "an experience I will never forget." She started with the Hibachi soup, which she liked very much. Murray stated, "I had wished the bowl the soup was served in was never-ending.
She then had the Spicy Crab Roll and Spicy Tuna Roll. She described both meals as delicious and fresh. When asked if she would eat here again, she obviously said yes. "I was very excited to discover that there was a restaurant in town that provided such high-quality versions of my favorite meals," said Murray.
Lastly, we have Emily Wangenstein, a junior here at SUNY Oneonta. Wangenstein ordered a simple Chicken and Broccoli meal with fried rice. She stated that she is never disappointed when she eats this meal. When asked if she would eat here again, she said "Yes! Tiger Asian is one of my favorite places to eat at in town."
If you were not able to tell, my group's consensus was that Tiger Asian will always be the way to go when it comes to picking a meal for dinner. The service was great, the food is delicious, and because it is on Door Dash and has its own personal delivery drivers, we will always have access to order it. Give it a try, you will love it!