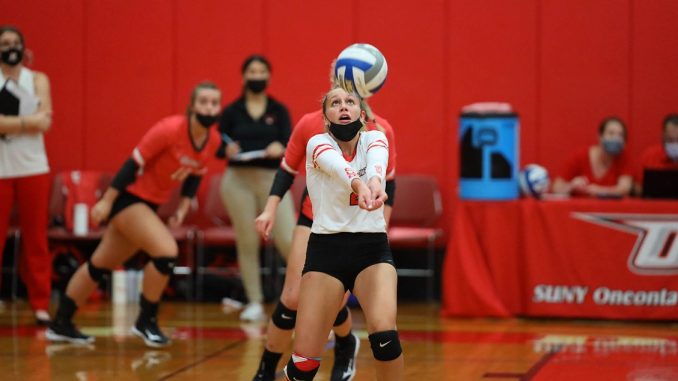 Chelsea Sookra, Staff Writer |
A Quick Examine
The SUNY Oneonta volleyball team unfortunately lost a pair of matches at Chase Gymnasium on Saturday afternoon. The Red Dragons rallied from a 2-0 deficit to tie the game at 2-2 with Vassar, but ultimately succumbed to the Brewers 3-2. In the nightcap, Oneonta was defeated 3-0 by Alfred University. The Red Dragons' record now stands at 3-12. Despite this, they'll dust themselves off and do better at the next match.
The first set was twenty-five to nineteen Vassar, twenty-five to seventeen Vassar, twenty-five to nineteen SUNY Oneonta, twenty-five to twenty-three SUNY Oneonta, and fifteen to ten Vassar.
For the Alfred game, the first set was twenty-five to eighteen Alfred, twenty-five to twenty-one Alfred in the second, twenty-five to twenty Alfred in the third.
Caitlin Christie (Bay Shore/Bay Shore) led Oneonta with ten kills, while Ashlee Mazzella (Warwick/Warwick Valley) and Ashanti Davis (Cortlandt Manor/Hendrick Hudson) each had eight. Davis also had four blocks, which was a match-high. Kayla Rende (Wantagh/Wantagh) had four service aces, and Carsyn Rachuta (Holbrook/Sachem North) had the most digs in the match with 21.
Davis, Isabella Fabrizio (Highland Mills/Cornwall), and Christie each had seven kills in the nightcap versus Alfred University. Rachuta had 12 digs while Sophia Gerace (Pearl River/Pearl River) had 16 assists.
What Will Happen Next?
The Red Dragons will return to action on Friday, October 8th at 6pm, when they travel to Fredonia for a SUNYAC matchup against the Blue Devils.
Women's volleyball may be having a rough season, but we know they'll be back! After Fredonia is their game against Buffalo State on Saturday, Oct. 9 at 1pm, then Oswego on Friday Oct. 15 at 6pm. Cortland is up next on Saturday, Oct. 16th at 1pm, Brockport at home follows on Friday, Oct. 22nd at 6pm, with Geneseo at home on Saturday, Oct. 23rd at 2:30pm. They play against Ithaca on Friday, Oct. 29th at 7pm, Baruch at home on Saturday, Oct. 30th at 12pm and finally Hartwick at home on Saturday Oct. 30th at 4pm. A jam packed October schedule for these ladies.
Their stats are the following: Overall 3-12, PCT .200, CONF. 2-1, PCT. .667, Streak L3, Home 3-3, Away 0-6, Neutral 0-3.
Let's cheer on our women's volleyball team as they strive to improve on their season. This season has been hard on them so far but the SUNY Oneonta community has faith they'll have a good turn around. They have a well-deserved rest this week until the 8th when they have to go to Fredonia, but we're sure they're preparing to do their best. Here's to SUNY Oneonta Women's Volleyball making it to the SUNYAC Tournament Quarter Finals on Nov. 2nd. Good luck ladies! We're all rooting for you and your success this season! Let's go Red Dragons.