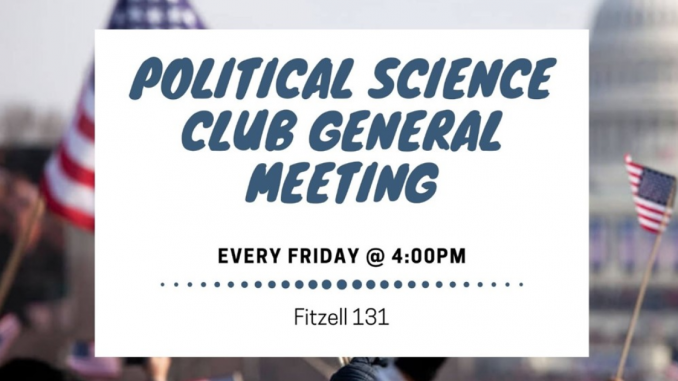 Ashely Hopkins, Staff Writer |
Are you back on campus and looking to join a new club? If you happen to be interested in current events and political topics, you'll be happy to hear that there is a club waiting for you!
Political science, defined by the SUNY Oneonta website, is "the study of governments, public policies and political processes, political ideas and values, and political behavior in the United States and in all regions and countries of the world." Maggie McCann, the president of the Political Science club, explained that while those things are an aspect of the club, members "tend to work more in present-day politics, breaking news events and political issues that impact our everyday lives." This helps make the topics talked about in meetings a little more fun and personal. Recently, the club has been following the senate and their decision-making on bills such as the Freedom to Vote Act and policies to protect access to abortions.
Politics can be a touchy subject, but do not worry. The club encourages a non-partisan approach to have a safe space when talking about top headlines and ongoing political issues. You don't have to know everything about Political Science, either. "We encourage anyone with an interest in the world of political science to join our club. Whether you're someone who keeps up with the news and wants a place to share ideas with like-minded students or you're a political science major hoping to learn more about the field and your opportunities after graduation, we're here and happy to have you," said McCann.
Connecting with faculty can be hard since they have so many students. However, establishing relationships with professors in the field is important and extremely beneficial. McCann said that the club really tries to help with this, and regularly host internship informational sessions with the Political Science faculty.
The club meetings begin with a discussion on current events. Everyone is encouraged to share their opinions. These discussions can range anywhere from policy to social justice to personal experiences. Meeting times are also used to plan events. The club aims to host one large event a month like the Voter Registration Tabling they held on Sept. 28th.
One of the most exciting events the club hosts is the Annual Political Science Conference; a state-wide event consisting of student paper presentations, panel discussions with professors and alumni, and a keynote speaker who the club gets to choose and invite. The entire event is planned by the Political Science club and faculty. "It's something I think that makes our club unique because it's an event that involves the entire campus and campuses all over the state and it provides students with diverse experience coordinating an event of this scale," said McCann.
Our world today seems to be bombarded with political topics as the masses become more educated and aware; this can be extremely overwhelming at times. "We strive to make the Political Science club a space for students to process what's going on in our world, together, to express concerns, look for solutions, and remind each other that the political world can be overwhelming. Especially in the last few years as our country has been turned upside down. But we don't have to handle it alone. As a new and educated generation, we have the tools to handle this current realm of politics together, and I think the Political Science club is a great place to start," said McCann.
You can join in on the conversation every Friday at 4 p.m. in FITZ 131!