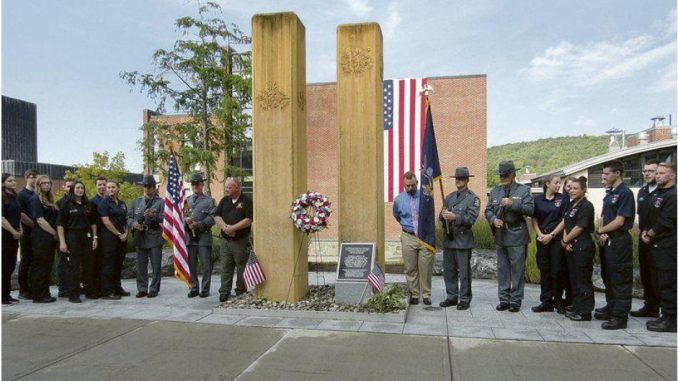 Ashley Hopkins, Staff Writer |
This year marked the 20th anniversary of the tragedy that struck our nation. Even so many years later, the impact of the events that happened on September 11, 2001 are still prevalent. It is our duty as Americans to remember our fallen heroes and reflect on the events of that day.
When you walk through the quad of Oneonta and you'll see two gold-colored pillars. At the bottom of those pillars lies a plaque that has the names of seven SUNY Oneonta Alumni that were lost on that devastating day: Martin Lizzul, Lynne Irene Morris, Michael J. Mullin, Jeffrey R. Nussbaum, Kevin Owen Reilly, Brian J. Terrenzi, and Glenn J. Winuk.
The memorial was placed in 2002 by the Alumni Association, College at Oneonta Foundation, Royal F. Netzer Endowment, Oneonta Auxiliary Services, Sodexo Quality of Life Services, and the Student Association.
SUNY Oneonta has had a ceremony in remembrance of 9/11 every year since the placement of the memorial in 2002. "SUNY Oneonta was touched deeply by the events of Sept. 11, 2001. Among those who lost their lives in terrorist attacks in New York City, Washington, D.C., and Pennsylvania that day were seven SUNY Oneonta alumni. We mark this date with a memorial ceremony each fall. The college's 9/11 monument stands as a tribute to all who perished and as a pledge that our campus community will never forget. All are invited to join as we honor these members of our Oneonta family and reflect on the tragic events that day," said SUNY Oneonta via the memorial's webpage.
This year was extra special, as it was one of the first in-person events the college has had since returning this fall from remote learning. It is so nice to finally be able to come together as a community again and support and reflect with one another.
The ceremony featured the University Police Color Guard, presentation of flowers and a wreath, and music. All attendees were required to wear a mask.
It is important for us to reflect on the events of that day, and to remember those who we unfortunately lost. Many of us were just babies at the time of the attack and have probably heard stories from parents and loved ones about where they were and how they found out. We've learned the base-level of information through years of history classes, just to talk about it again the next year September rolls around. Netflix has just come out with a show about the attacks, Turning Point, that "documents the 9/11 terrorist attacks, from al Qaeda's roots in the 1980s to America's response, both at home and abroad," (Netflix). It has gotten good reviews thus far and would be worth watching if you're curious and want to know more.
Everything that we have been through as a nation due to the pandemic and other social justice issues has strained our ability to come together as one. This year has placed emphasis on how important it is to be there for one another when possible and to be kind.