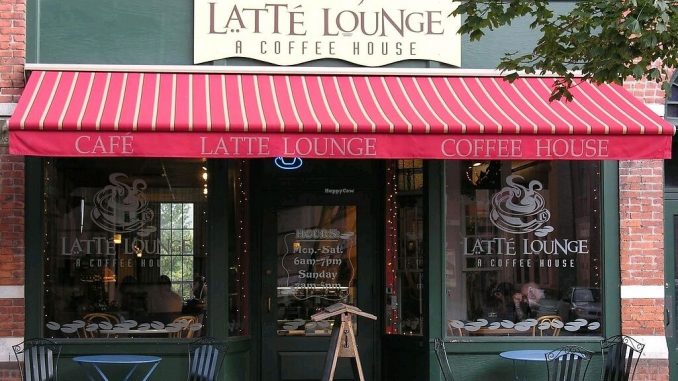 Alexa Di Palermo, Staff Writer|
Picture this: It's Sunday Morning. The leaves are falling off the trees, and you decide to go into town and buy a new book at the Green Toad Bookstore. You get a whiff of coffee and notice the large open door connecting to the Latte Lounge… you really want to go. But you question yourself: what do I get? Is it good? Then you realize your friend read this article and said you should. You'll eat something yummy, and then thank me later.
The Latte Lounge, located on Main Street, is a popular coffee and breakfast spot for students and residents of Oneonta. Depending on when you go, it may be crowded or a tad bit loud. But the line goes quickly, and it gives you the perfect amount of time to look at the menu and decide what to order.
Once you make it to the front and place your order with the friendly and accommodating staff, you wait for them to call your name and give you your items. It may take some time because of the number of customers waiting before you, but when you get your items, you're good to find a seat, kick back, and enjoy.
On my last trip, my group and I ordered several items to enjoy. To begin, I had a bacon egg and cheese on a plain bagel. The bagel was not a long island bagel, it was a little bit small, but it did the job. The food was still cooked warm, to order, and perfectly. After the first, you may even have room for seconds. Not only because the portion feels a little small, but because the food itself was so good that you get a little sad when you finish it.
Jocelyn Podlas, a student at SUNY Oneonta, also ordered the bacon egg, and cheese, but on an everything bagel. Podlas said, "I grew up on Long Island, so I never really ordered bagels up in Oneonta because I knew it wouldn't be the same. I found that Latte Lounge, by far, has the best bagels in Oneonta." With the sandwich, she ordered a Mocha Chiller drink. She ordered this as an alternative to coffee and said, "I haven't looked back since." She highly recommends ordering this drink, especially if you enjoy mocha!
Sarina Graziano, a sophomore, ordered the Matcha Latte and a bagel with cream cheese. She said the matcha latte was "better than Starbucks," and the bagel was "crispy, warm, and had a good flavor to it."
While there, I ran into a friend of mine, Adam Albright, on our way out. Albright suggests the chai tea and insists that it "is the way to go." When asked about his thoughts on the menu, he said "I like that they have many great vegetarian choices among their menus. The substitute, meat-free options make a great imposter. Anything you order will taste great!"
My group and I would all recommend the Latte Lounge to anyone. Although waiting for your food can be a long time to stand, the food is worth the wait. Be sure to go to the Latte Lounge, open every day until 5 p.m.!