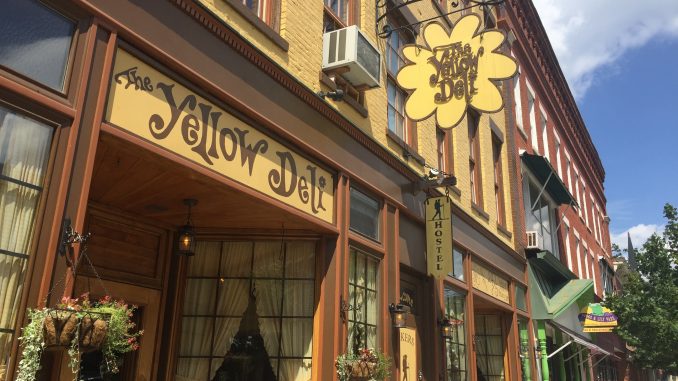 Alexa Di Palermo, Staff Writer |
Imagine this: you're walking around Main Street on a sunny Sunday morning. It's hot outside, you have been walking around for a long time, and your friends are getting hungry. You see the sign of the Yellow Deli and decide to give it a try. Taste tests can be tricky, but since I tried it out for you, I can now say that the Yellow Deli is a good place to go. If you pick this place to eat, your friends will worship you.
My friends and I went to celebrate my birthday. I think now we can all say, eating there is a special experience. Walking into the Yellow Deli, my friends and I were immediately welcomed with smiles and accommodations. The vibes of the restaurant itself are great. It's decorated to be cozy, calming, and whimsical. The menu is small, but there is something for everyone. Everything that we ate was delicious.
We ordered the Egg and Cheese sandwich, the Deli Waffle, and the Reuben sandwich with a side of chips. There was a little bit of a wait for the food to come to us, but all our meals came out hot and ready to eat. I had the egg and cheese sandwich. This came with two eggs on a buttered egg roll with cheddar and provolone cheeses. I ate this with a side of ketchup because who doesn't love ketchup on their egg sandwiches. This sandwich was great. The bread is soft, the eggs and cheeses tasted amazing together. There was a beautiful cheese stretch pulling the sandwich apart, and the taste was amazing. I could eat this sandwich for breakfast, lunch, or dinner.
Emily Wangenstein, a junior at SUNY Oneonta, had the Deli Waffle. "I enjoyed the waffle with fresh fruit," Wangenstein went on, "I paired it with apple juice which made for a great meal." She said the waffle was soft, warm, and everything a good waffle could be. "It was really good," said Wangenstein and she said she would eat it again.
Sarina Garziano, a sophomore, ordered the Reuben sandwich with a side of chips. She described the sandwich as "scrumptious" and said the dandy drink was a good match with it. The potato chips on the side made the meal complete for her and me too because I stole some. When asked if she would order again, she said yes, of course.
The last item we received was free, a slice of carrot cake. This was not only served to me with a smile, but with a song. The staff sang me happy birthday and gave me the biggest slice of cake I've seen in a long time. The cake was super soft, tasted great, and had the perfect amount of frosting on it. I'm not a big carrot cake person and felt awkward receiving it, but I ended up enjoying it.
If you were to ask me if the Yellow Deli is a good place to eat, I would say yes. Kick back, relax, and enjoy the time you spend there. The staff is friendly, everything is clean, and the food is worth the wait.
---