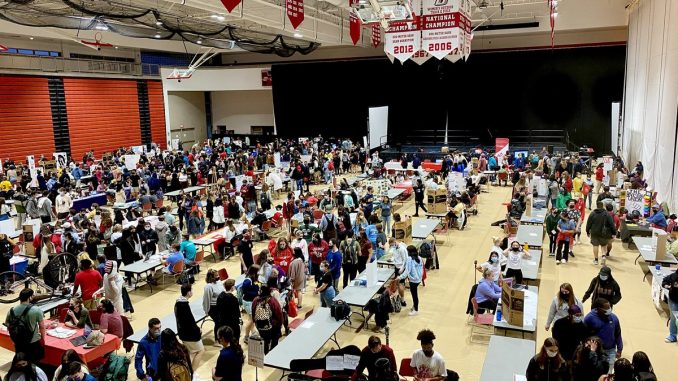 Chelsea Sookra, Staff Writer |
On Sep. 1, SUNY Oneonta held Club Expo for the Fall 2021 semester in the Dewar Arena. All of the clubs SUNY Oneonta has to offer were present; academic, athletic, cultural, spiritual, humanitarian, interest-based clubs, and Greek Life. Members from each club set up tables where students could talk with current members and sign up if interested. The State Times got the chance to interview a few of these clubs if you didn't get the chance to stop by.
Sarah Manila, a member of Habitat for Humanity said "I loved the idea of helping others and the community in various ways such as building houses, and it helped me make some friends!" Habitat for Humanity has a lot to offer potential members. It helps with financial education, disasters, caring for elders, and neighborhood revitalization. What kind of person would benefit from joining this club? "Anyone who loves helping people", Manila said. Habitat for Humanity meets at Hunt Union in the Leatherstocking Room. A meeting time is to be determined.
Next up, the Philosophy Club! What does the Philosophy Club do? "Talk about people," Quinn told me enthusiastically. Along with talking about people, the club also encourages you to think about your thinking, detect your values and beliefs, and question if you have good reasons for believing what you believe. How can someone who does not know philosophy benefit from this club? Quinn said, "Believe it or not, philosophy is very practical, and many of their ideas come from literature and fiction, so you may already know more than you think!" What kind of people would benefit from the philosophy club? "Anyone who likes to talk! If you especially like talking about people, making observations, and analyzing different perspectives, you'll be a great fit, Quinn replied. Even if you don't fit these descriptions, everyone is welcome! Come to the Glimmerglass room in the Hunt Union on Fridays at 5 p.m. to rewire your notions about philosophy!
I spoke to Sydney Clark from the Knit-Wits, the knitting club, who runs it along with fellow member Sarah Brabant. I asked Clark what kind of people could benefit from the Knit-Wits, and she told me anyone who wants to learn how to knit! The club teaches you how to knit and takes their time to help you individually, even if you're going to knit something as complex as a sweater. They also take suggestions for new knitting projects! You even get to make fun items like stuffed animals! Clark told me pre-covid; each member would knit a square to be added to a blanket and donated to a women's center. Clark said, "I didn't know how to knit before joining and was nervous about learning, but I loved the welcoming atmosphere when my friend and I decided to join". Join the Knitting Club at the Butternut Valley in the Hunt Union; they're eager for new members and are excited to meet you. A meeting time is to be determined.
Last but not least, Pi Delta Chi! Pi Delta Chi is one of SUNY Oneonta's recognized sororities, meaning they follow SUNY Oneonta policies and receive recognition from the college for their membership. I spoke to sisters Kayla Martucci, Annayah Newton, and Tatiana Pereira about Pi Delta Chi. They told me the sorority partakes in a lot of community service, fundraising, and philanthropy. The sorority as a whole takes pride in helping others. Why should someone join Pi Delta Chi? Newton said, "If you want to make new friends and have a welcoming space of your own, Pi Delta Chi welcomes you!" As their motto states, "Unity and Eternal Friendship." Many people are scared to join Greek life out of fear of not being welcomed. The sisters told me, potential sisters should do their research about SUNY Oneonta's Greek life, talk to current sisters, and find one that "vibes" with you.
If you missed this semester's Club Expo, check out the organizations on Campus Connection for more info.
---