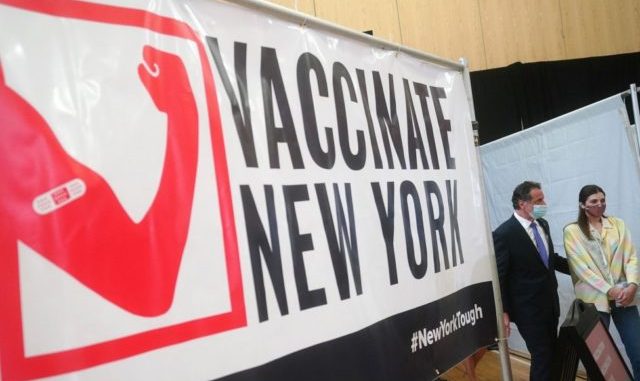 Rachel Dobkin, Staff Writer |
As vaccines continue to roll out, more Americans are becoming eligible to make an appointment for their two doses. As of Mar. 30, New York residents ages 30 and older have become eligible for the vaccine, and as of Apr. 6, New York residents ages 16 and older are eligible. The new eligibility guidelines come one month earlier than President Biden's May. 1 deadline.
Governor Andrew Cuomo said, "The vaccine is the weapon that will win the war, but only if we all take it." He went on to say, "I also want to remind everyone that universal eligibility for the vaccine does not mean we are back to business as usual." But this does bring hope to many New Yorkers that yearn for a sense of normalcy.
"I think the vaccines have been shown to be effective and that they are bringing us closer to how life was pre-COVID. I believe that it's important that all students at SUNY Oneonta get their vaccines as soon as they can so that we can help to overcome COVID-19 and get back to normal," said Katie Murphy, sophomore at SUNY Oneonta.
Brianna Shaw, a freshman at SUNY Oneonta, said, "With New York State expanding the vaccine eligibility requirements, it is inspiring to know the progress that we all have made since the start of the pandemic." She went on to say, "Since the vaccines are more accessible to New Yorkers 16 and older, I believe that students should research information and resources regarding the vaccines to see which is best for them. Additionally, it is important for us to maintain our responsibilities and keep taking precautions for the safety of our communities."
Parental consent will be required for vaccinations of 16 and 17-year-olds at all state-run sites, with some exceptions. Teens of this age group will also only have access to the two-dose Pfizer vaccine, as it is the only one that has been authorized for use by people under the age of 18.
With COVID-19 isolation causing a huge impact on mental health, Meredith Homin, a junior at SUNY Oneonta, said, "The vaccination is a step in the right direction towards lessening the impact COVID-19 has had on the mental health of younger people."
SUNY Oneonta junior, Eryka Swank, said, "I think it's good to get the vaccine because most people our age are around a lot of people because we are in high school and college." Herd immunity would be beneficial for the college considering its plans to house approximately 2,900 students on campus, according to the SUNY Oneonta website. With in-person mask-to-mask instruction and increased use of campus buildings, it's crucial to stop the spread as much as possible.
Other plans for the fall 2021 semester include continuing to mandate regular COVID testing throughout the semester, designating buildings for quarantine and isolation, and offering mask-to-mask (M2M) in-person classes. The college will also be returning to its policy of requiring first year students and sophomores to live on campus.
Since SUNY Oneonta is now a vaccination site, on and off-campus students can take advantage of their age eligibility and start scheduling appointments on campus. If you are eligible and would like to schedule an appointment go to the 'Am I Eligible' website and you can find SUNY Oneonta on the list of sites among others across New York State. As of right now, people 16 and 17 years of age are only eligible for the Pfizer vaccine, which SUNY Oneonta is supplying at the moment for those who are in the Oneonta community or have access to the site.