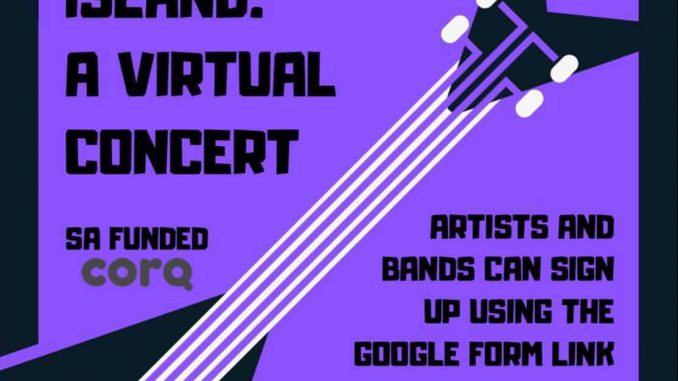 Rachel Dobkin, Staff Writer |
WONY Island is an annual concert that SUNY Oneonta's radio station, WONY 90.9 FM, holds every spring semester. Due to COVID-19 restrictions, WONY Island will be held virtually this year on Saturday, Apr. 10.
WONY Island has gained popularity over the years with the previous two concerts having at least ten student acts. Last year, students were sent home about a month before WONY Island was supposed to be held, which made it hard on students who had to miss out.
David Jimenez, WONY Events Director, said, "Not having WONY Island last year really sucked because it was one of the bigger WONY events in the year that people outside of the club knew about, but hopefully this year we'll be able to have some semblance of it."
Local artists and bands who would like to participate must be able to record a video of their performance that is eight to twelve minutes in length, be able to share their video with the WONY Event Director and several other WONY E-Board members on Google Drive and be able to record and share this video by Saturday, Mar. 27.
Jimenez believes that "artists should sign up because it will bring them some exposure and it's pretty easy to participate." He goes on to say, "I genuinely hope all that are able to sign up, will sign up."
Even if you don't want to perform, you can still be a part of the event. "People should attend WONY Island because it's a chance to see a lot of local artists that are talented and worthy of support. It's also a chance to see live music again, albeit virtual and recorded," Jimenez said.
A Place to Hide will be one of the student bands performing. Drummer, Ryan Mastrelli said, "We're excited about this opportunity. We were going to be playing WONY Island last year but had to cancel due to COVID. We're excited to be a part of this year's WONY Island and hope it will be back in-person soon."
Ethan Teper, SUNY Oneonta Alumni, performed twice at WONY Island in 2018 and 2019. He would've performed last year had it not been canceled. Teper said, "Performing for WONY Island was a blast the two times I did it! The people are so laid back, chances are you're already friends with most of the performers and at least some of the E-Board. No pressure at all! A great opportunity to show off your tunes as well."
When referring to the performers for this year, Teper said, "It's going to be a little different, but my best advice would be to have fun with it! This is a time to showcase your music to your pals and make pals in the process. WONY were some of my favorite people to play for so this will be worth it."
He went on to say, "Inevitably there won't be the audience aspect, but that doesn't mean it won't be a unique experience of its own! Watch all of the performers and congratulate them on a good set! Once you have that connection, you're set. It doesn't have to be in-person to make that happen!"
If you would like to sign up to perform, go to @wonyfm on Instagram to fill out the Google Form in their bio by Mar. 20. Don't forget to tune into WONY Island on Apr. 10. The virtual link will be on campus connection after Mar. 27.