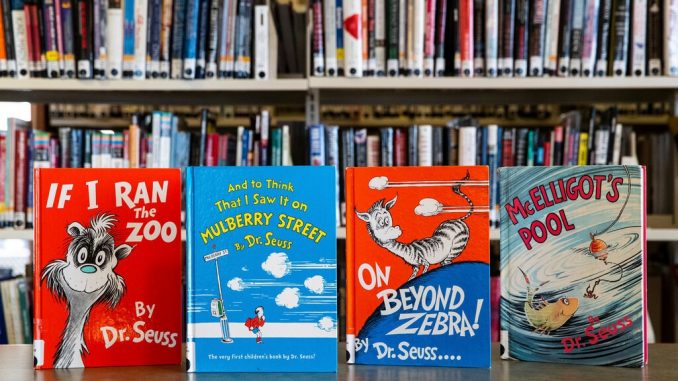 Rachel Dobkin, Staff Writer |
On Tuesday, Mar. 2, Dr. Seuss Enterprises made a statement listing six books that will stop being published due to racist imagery. These books include "And to Think That I Saw It on Mulberry Street," "If I Ran the Zoo," "McElligot's Pool," "On Beyond Zebra!," "Scrambled Eggs Super!" and "The Cat's Quizzer."
In the statement, Dr. Seuss Enterprises said, "These books portray people in ways that are hurtful and wrong."
Although a beloved and popular author, the late Dr. Seuss has been criticized for promoting racist propaganda. In the past, Dr. Seuss drew anti-Japanese political cartoons that supported Japanese-Americans' incarceration during World War II. Not only does his imagery provoke unsettling Asian stereotypes and depictions of Black people as monkeys, but Dr. Seuss even performed in blackface during minstrel shows that he wrote.
However, these recent events call censorship into question. Although these six books produce hurtful messages, many people, especially librarians, believe there is an educational side to reading Dr. Seuss's work. The Milne Library on campus still has all six titles except "The Cat's Quizzer" for students and faculty to analyze critically.
Sarah Rhodes, Reference and Instruction Librarian at Milne Library, explains why the library chooses to keep these titles since Milne Library is a part of an academic institution. "Our collection is here to support the curriculum across multiple disciplines," said Rhodes.
Rhodes thought of four ways that different disciplines could use Dr. Seuss: History, Education, English and Art. Students and faculty can look at the historical context of when Dr. Seuss's books were written, and they could also look at Dr. Seuss's book for the art style. The books aid in childhood developmental purposes like the rhyme scheme, which the education department can evaluate. The English department can also analyze the literature and the language.
"We go through an evaluation process with our selection and deselection of material, but we keep in mind that there are many ways that these materials can be used, and it is very interdisciplinary work," said Rhodes. This evaluation process is done by multiple stakeholders at the college, depending on which part of the collection is being discussed.
The library does not enforce disclaimers in offensive texts, which is a part of their interdisciplinary values, but they do make an effort to promote inclusive texts. Rhodes said, "All of our collection has teaching, learning, and research value. They may contain language and imagery that's offensive because of content relating to ability, gender, and race."
That being said, Rhodes went on to state, "we do not endorse any material that conflicts with the colleges and libraries values, and that is why we work to build and highlight those collections where marginalized voices are included and represented."
One of the reasons Rhodes said the library keeps exclusionary texts to teach education majors how to select inclusive books. They look at what makes a book inclusive and what makes a book non-inclusive. To do this, they need to have bad examples as a "means to have a much more effective conversation around the topic," according to Rhodes.
Education majors will then do their own research to find inclusive books, which the library will sometimes buy for their collection. Rhodes believes children must read inclusive books and books written by diverse authors. She said, "Representation matters. A person of color or a person from a marginalized group needs self-affirmation and seeing themselves represented correctly in texts, especially as a young child. It is also important as an adult to read them as well because we need to see the world and human beings outside of our worldview, and we need to see them in a correct way."
Rhodes went on to say, "We are not doing justice to the world and our fellow human beings if we are reading material [non-critically] that's reinforcing stereotypes and racist imagery and those negative images."
The Milne Library website offers a Social Justice and Anti-Racism reading guide on their homepage implemented last year. According to the website, "This guide is intended to support informed dialogue and action by providing general information and resources about anti-racism, diversity, and inclusion."