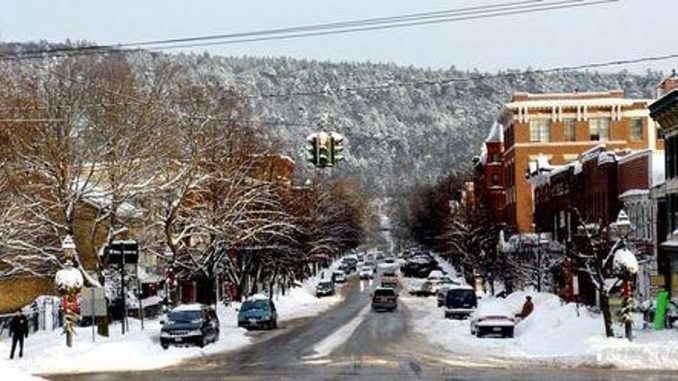 Andrew Dawson, Staff Writer |
Cooperstown just held its annual winter carnival from Feb. 16 through Feb. 21, with the goal to bring fun and laughter during the dark days of the winter season. The Cooperstown Winter Carnival connects the community and local businesses during this five-day event.
In commemoration of the event, local businesses help special sales and promotions. Customers had to follow the COVID-19 regulations for every restaurant, including social distancing and wearing masks. There was a grand opening for Ruby's Wine and Liquor on Feb. 18. The store opened at 11 a.m. and had a special discount on New York State and international wines.
The carnival had many events and games to participate in while following strict COVID-19 guidelines. The first event was the snowman contest; onlookers could vote on who had created the best snowman and whoever had the most votes would be declared the winner. The carnival also had an essay contest with the prompt, "What does it mean to be a citizen of the world?" Faith Lounge of Cooperstown won the essay contest. Lounge wrote, "You cannot be a citizen of the world without being accepting of everyone, no matter their skin color or sexuality, or gender identity. We all coexist on a planet in space, and it is time to treat each other as one."
The medallion hunt was another popular event attracting many carnival-goers. The medallion hunt was a scavenger hunt to find hidden medallions spread out across the city of Cooperstown. There were a total of six families who won by finding the medallions. Most of them were found outside and near specific landmarks in Cooperstown, including the village proper at a local public park.
The Cooperstown Winter Carnival organized a punch card event as a way to promote local businesses. To win this event, you had to eat at eight different locations on the punch card, collecting a signature at each stop. Then the participants had to mail in their punch cards to Kate's Upstate (134 Main Street) for a chance to win a prize made up by all of the participating businesses.
The Cooperstown Winter Carnival wanted to ensure safety during its five-day span, creating virtual events and contests. One virtual event that took place was a talent show. The show's rules were simple; contestants had to submit their talent videos by Feb. 10 and videos could be a maximum of five minutes long. The talent show premiered on Feb. 19 on Instagram, Facebook and YouTube. Another virtual event was a trivia night hosted by Cooperstown celebrity John Hodgson. This game happened on Feb. 19 and participants could team up with other household members to answer the questions.
The Cooperstown Winter Carnival continues to get bigger each year, with more people participating in these local events. The Cooperstown community needed the carnival more than ever, allowing children to have fun and interact with each other during the COVID-19 pandemic. If you missed the carnival, make sure to participate next year because it is great for the community. We also encourage you to continue to shop locally, as your support will go a long way to help keep local stores open during the COVID-19 pandemic.