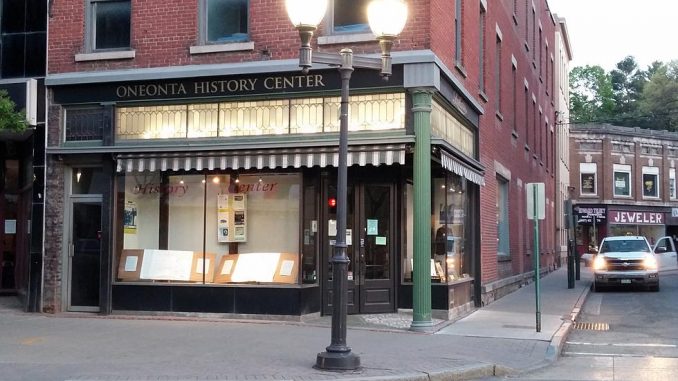 Rachel Dobkin, Staff Writer |
As of last January, The Greater Oneonta Historical Society (GOHS) has appointed Marcela Micucci as its new director.
GOHS was founded in 1939 and still strives to preserve the history of the Greater Oneonta area. GOHS was named "Organization of the Year" by the Future for Oneonta Foundation in 2015 and is located on 183 Main Street in Oneonta, NY.
Although Micucci has never worked for GOHS before, she is no stranger to Oneonta, being her hometown. Micucci has spent the past four years at the Museum of the City of New York, located in Manhattan, and the Museum of the American Revolution in Philadelphia. This new position at GOHS will allow her to use her expertise in museum work and the humanities. 
When reminiscing on why she applied for this position, Micucci said, "My love for my hometown and its history and my desire to reconnect with the local community."
She also hopes to maintain "the legacy of outgoing Executive Director Bob Brzozowski and all the GOHS has already accomplished."
The COVID-19 pandemic has greatly affected GOHS and countless other humanities and cultural institutions. "We've had to limit our capacity and any in-person gatherings for GOHS programs and events, and we have carefully adopted COVID-19 cleaning protocols and distancing procedures at the History Center since we are still open to visitors," said Micucci.
GOHS offers virtual programming and new exhibitions. One of these being "Up from the Ashes: Oneonta Shaped by Fire," a new temporary exhibition that opened on Feb. 12, 2021, and will run through May 1, 2021," said Micucci. 
Micucci has big plans for the future of GOHS, saying, "I hope to complete the restoration of the building at 183 Main Street, expand the development of new exhibits, programs, and GOHS's historical collection, and increase the community's involvement in GOHS, so all citizens understand that Historical Society and the History Center downtown are there for everyone to take advantage of for educational programs, exhibitions, and research."
"GOHS is invaluable to Oneonta and SUNY Oneonta because it helps preserve our city's rich history and heritage," Micucci emphasized. "Our building is not only a community center, but we work to collect and preserve relevant documents, papers, pictures, artifacts, and objects related to and illuminating the history of the greater Oneonta area."
Heather Beach, the Associate Librarian at SUNY Oneonta, has done a significant amount of work with fulfilling the college's archives and has even worked with GOHS before. Micucci has yet to work with her, but she hopes to collaborate with her in the future.
Places like GOHS are vital to the Oneonta community. Micucci elaborates, "It is the everyday people, places, events, and the objects they left behind that allow us to uncover the stories and experiences of the diverse men and women that wove the social fabric of Oneonta."
If you would like to visit GOHS in person, visiting hours are Wednesday-Friday from 12 p.m. to 4 p.m. and Saturday from 10 a.m. to 4 p.m.