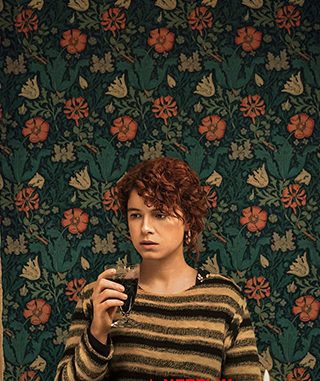 Hannah Lonergan, Staff Writer |
With Halloween quickly approaching, I decided to give "I'm Thinking of Ending Things" a try. Based off of the novel by the same name, this Netflix original premiered in early September of 2020. Directed by Charlie Kaufman, director of "Eternal Sunshine of the Spotless Mind" (2004), fans were eager to see this adaptation hit their screens. Despite its 80 percent score on Rotten Tomatoes and its 78 percent score on Metacritic, reviewers either love it or absolutely hate it. It was adapted from the novel by the same name, written by Iain Reid, "I'm Thinking of Ending Things" seems to have hit a middle ground with reviewers.
The story follows Lucy, played by Jessie Buckley, on a day trip to visit her boyfriend's parents who live on a farm. The film seems to break itself into three distinct parts: the car ride before arriving to the farm, the interactions at the farmhouse and the car ride home. Each part feels like an entire movie on its own, as the film is a little over two hours long.
While Lucy is in the car with her new boyfriend Jake, played by Jesse Plemons, we dive into her mind and perspective. Often getting lost in her inner monologue, the audience is a first-hand witness to their awkward relationship.
After the couple arrives to Jake's childhood home, a series of absurd, time warping events take place that are both uncomfortable and unnerving to watch. It is at this point in the film that the thriller aspect takes place, the timeline begins to stray from the linear path.
The third half of the movie takes place on their drive back home. We are introduced to a parallel timeline of a janitor who is tediously working at a local high school during the late-night snowstorm the couple is driving in. These two side by side stories, later cross paths in an odd reality bending metaphor.
The sets and the atmosphere are well done as it feels exactly as it would if you were meeting your new boyfriend's parents for the first time.
"I'm Thinking of Ending Things" packs a lot of symbolism and themes into a small setting, so a second watch may give you a deeper view into the psyche of the characters. The end of the film ends with multiple questions unanswered.
If you're looking for a last-minute Halloween thriller, this is a film that you should either completely skip over or watch just to speculate over.