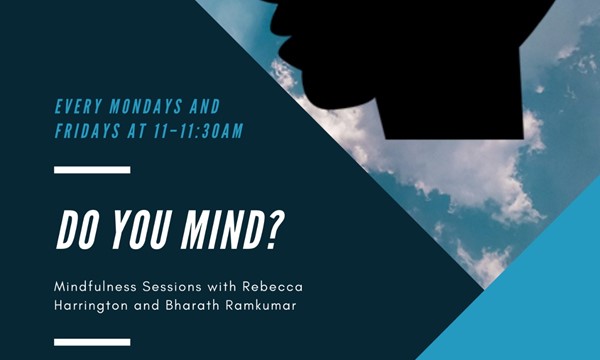 Hannah Lonergan, Staff Writer |
"Do You Mind? Mindfulness Sessions with Rebecca Harrington and Bharath Ramkumar" urge all to adopt positive habits for ourselves and our ideal routines. With the semester at the halfway point and midterms having run rampage through our classes, we could all use a moment of mental clarity, "Do You Mind," offers a space to take a breath and ground yourself before continuing with schoolwork.
Bharath Ramkumar hosted Friday's session, who used sleep as an example to discuss how our habits are what make us feel a certain way. Ramkumar strongly believes that the quantity and quality of sleep you get affects how you feel. Some may be early risers, and some may be night owls, but the habit of sleep boils down to going to sleep and waking up at the same time every single day.
Ramkumar explains that when we do something at the exact same time, our body and mind will create muscle memory for that action and will learn to expect it. When you go to sleep and wake up at the same time every day you will begin to form a habit of it, your body will use its internal clock to recognize when to start preparing for sleep.
The power of habits isn't just for sleep, but it is just one example of how you can adopt new skills. Although it will take discipline, Ramkumar notes that "habits will sustain you whether you are inspired or not."
Bringing it back to mindfulness, allowing yourself to be without judgment is a good habit to have in your life. Rather than being goal-oriented, Ramkumar suggests spending the majority of your time being process-oriented. When not focusing on the past or future, we can focus on the present. Putting your focus on the outcome would be limiting, according to Ramkumar.
Ramkumar urged the event's small group to pay mindful attention to the current moment, your mind and body will begin connecting itself to each action. Practicing awareness as a habit will come to your rescue when you need it the most.
After the brief mindfulness conversation, the attendees did a short breathing exercise to practice self-awareness. Paying attention to the sounds around us, Ramkumar suggested observing your breath but not controlling it. Using this meditation framework can allow for self-reflection and a space that isn't just about schoolwork.
He reminded the audience that any space can be a meditative space. There is no need for fancy crystals or candles if you don't have the resources. When you create a space for awareness in your mind, you can access it anywhere. Ramkumar concluded the session by reinforcing the lesson from the event: once you build the habit of awareness, "you create it in your mind, it's your space and nobody can take it from you."
"Do You Mind? Mindfulness Sessions with Rebecca Harrington and Bharath Ramkumar" take place every Monday and Friday at 11 a.m. on Microsoft Teams.