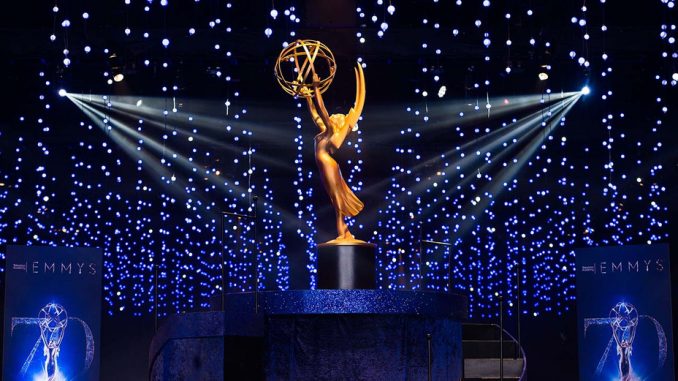 Isabelle Torres, Staff Writer |
     This year's Emmy Award Show continued even through the pandemic, shocking many pop culture lovers. Fans were curious about how the ceremony would commence, but nonetheless, the show went on. As fun and exciting as it is to see the impeccably dressed celebrities altogether on the red carpet, all attendees and nominees joined via Zoom video call so fans were still able to see all their favorite stars on television. Some could even argue that this may have been the most entertaining Emmys Award Show to date. Since many of the stars were home, it appeared that there may have been less pressure when giving their "thank you" speeches. A Vanity Fair article recapping the night stated, "The nominees and winners were able to get more comfortable and franker, they all seemed more candid and even politically engaged."
The show proceeded with a light and fun attitude. Exploding boxes containing the trophies were presented by people in hazmat suits, all caught via Zoom call.
Jimmy Kimmel hosted the awards show and did not shy from addressing the elephant in the room, "Why is there an award show in the middle of a pandemic?" This was Kimmel's first television appearance since his break from his show "Jimmy Kimmel Live." Kimmel gave the night a new nickname and referred to the award show as the "Pandemmys."
"Schitt's Creek" dominated the night, sweeping up win after win with a total of seven Emmys. Dan Levy, executive producer and co-star alongside his father, Eugene, won for writing and directing. The cast reunited in an iconic ballroom where they all enjoyed the night together. Catherine O'Hara and Annie Murphy, who play Moira Rose and Alexis Rose on the show, also scored wins. This was O'Hara's first Emmy nominee and win.
Zendaya made history with her win for Outstanding Lead Actress in a Drama Series for the hit HBO show "Euphoria." This was Zendaya's first nomination and Emmy win. At the age of 24, this award made her the youngest actress to win in this category. This also makes her the second black actress to win in the category after Viola Davis, who won for her role in the ABC show, "How to Get Away with Murder" in 2015.
The show was filled with big wins, such as Eddie Murphy winning his first-ever Emmy award and HBO's "Watchman" winning a grand total of ten Emmys. Appearances from Sterling K. Brown and Jason Bateman as well as a performance by H.E.R. gave the night a "normal" feeling during this very "not normal" award night. . Guest and winners were forward on-screen advocating for the Black Lives Matter movement. Regina King and Uzo Aduba were both spotted in shirts that supported Breonna Taylor.      
The Emmys concluded for the night after three hours and did not disappoint. Though the show did not look like the same as years past, it was still a very entertaining evening for stars and fans.