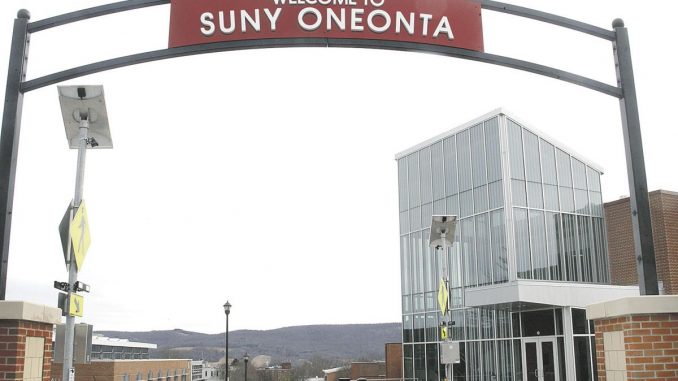 Andrew Dawson, Contributing Writer |
SUNY Oneonta has sent its on-campus students home for the rest of the Fall 2020 semester. This abrupt transition to remote learning is due to an outbreak of COVID-19 on campus. Despite the college's efforts to stop the spread of the virus, there was still a massive outbreak. More than 600 students tested positive for COVID-19 less than two weeks after school began. This makes SUNY Oneonta the first SUNY college to shut the campus down due to a spike in cases.
Officials announced on Thursday, Sep. 3 that SUNY Oneonta will fully transition to online learning. This quick decision came as a shock to many and led to an influx in questions from the student body. A frequently asked question was whether or not there will be refunds for room and board. The college does plan on issuing refunds for room and board. They will also issue refunds for more broadly charged fees like transportation, athletics, student life, and activity fees. Another question asked was what would happen to the students who test positive for COVID-19. While SUNY Oneonta strongly advised students to finish quarantine on campus, they still had the option to leave. To aid in the transition from on-campus to at-home President Barbara Jean Morris announced that classes would be canceled on Friday Sep. 4.
SUNY Chancellor Jim Malatras initially put Oneonta on a two week pause period beginning on Aug. 30 to stop the spread of COVID-19. At this time there were 105 total active cases and it only escalated from there. Later that day, Gov. Cuomo deployed a virus control team consisting of 71 tracers and three rapid test centers to make sure that COVID-19 would not spread further. However, these efforts did not prevent the spread. Officials confirmed that as of Wednesday, Sep. 2, there were 289 new active cases. More than 200 additional students tested positive by Thursday. President Dr. Barbara Jean Morris announced to the students, "The college now needs to take this new action to contain the virus and prevent further community spread. While this is sudden news and something no one wanted, the risk to our campus and Oneonta community is too great."
As of Tuesday, Sep. 15, the total number of confirmed positive cases is 671. State officials confirmed the primary source of the spread was unsanctioned parties. SUNY Chancellor Malatras announced five students and three campus organizations have been suspended due to their involvement in the spread. A photo spread on social media showing a large group of students partying in one of the quarantine-designated residence halls for students who tested positive for COVID-19.Dr. Morris quickly responded saying, "It is deeply disappointing that following the severe action SUNY Oneonta took just days ago, we are still faced with the reckless and irresponsible behavior of a few that are damaging the reputation of our campus." Dr. Morris also stated there will be proper suspensions for the students involved in the photo.
While many people are blaming the students who partied, some suspect that was not the only cause of the outbreak. Sophomore John Martello said, "Parties did play a big role, but it could have been because of other reasons like sneaking into different residence halls to see someone. I believe there could be and were students following the rules and still tested positive." Martello continued saying, "Administrators should have been more organized and enforced the rules better. I think they should have made mandatory testing before students arrived on campus. It would not eliminate the cases but there would be a lot less."
As of Wednesday, Sep. 16, there are still 15 students in quarantine on campus and one in isolation. While this is very upsetting news to students and staff, we need to learn from our mistakes. President Morris is currently working on a new plan for the Spring 2021 semester.