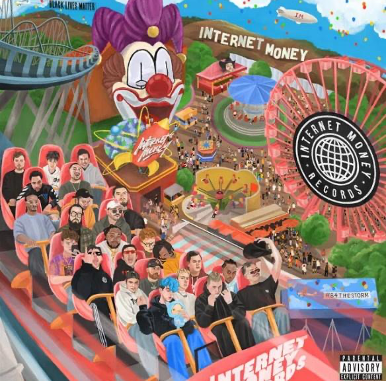 Jake Iannuzzo, Contributing Writer |
The producer and artist collective Internet Money recently released their debut album "B4 The Storm." Upon first glance at the tracklist, the album reads like an All-Star lineup. Features from Trippie Redd, A Boogie Wit da Hoodie, Wiz Khalifa, Juice WRLD, Future, Lil Tecca, Gunna and several other of hip-hop's brightest stars make up this project. Taz Taylor, Nick Mira and the rest of the Internet Money crew handled the entirety of the production.
Founded in 2016 by Taylor and Mira, Internet Money is a collective of producers, artists and creatives who have taken their music from their bedrooms to the global stage. Taylor and Mira's most notable production credits to date include "F—k Love" by Trippie Redd and XXXTENTACION, "On the Road" by Post Malone featuring Lil Baby and Meek Mill, "Plug Walk" by Rich the Kid, "That's a Rack" by Lil Uzi Vert and the duo's highest charting single "Ransom" by Long Island's own Lil Tecca, which peaked at  number four on the U.S. Billboard charts in 2019.
Released on Aug. 29, the album is a perfect way to close out a quality summer of hip-hop music. "Somebody" by A Boogie Wit da Hoodie and Lil Tecca, "Lemonade" by Gunna, Don Toliver and NAV and "Thrusting" by Swae Lee and Future were all released as singles to generate buzz for the group's upcoming project. The iconic album artwork, done by illustrator and painter ZAN, @moodzanzan on Instagram, features all the members of the collective riding a roller coaster through an amusement park which includes a plane pulling a "Black Lives Matter" banner and the words "Internet Money" on a mountainside as if it were the Hollywood sign.
One of the album's most impressive tracks, "Really Redd" by Trippie Redd, Lil Keed and Young Nudy is a thumping anthem that perhaps doesn't fit the mold of Internet Money's usual light beats and good vibes, but with each artist delivering a solid verse and Trippie Redd's earworm of a chorus, this song is sure to stick around in listener's heads for months to come. "Lost Me" by Lil Mosey, iann dior and Lil Skies joins the three singles as an absolute summer smash hit that makes the listener feel carefree and longing for a sunny beach day. "JLO" by Lil Tecca, my personal favorite song on the album, finds the teenage rapper easily floating over a bouncy Nick Mira beat with braggadocios raps. "Blastoff," also produced by Nick Mira, gives the listeners a great performance by Trippie Redd as well as a standout verse from the late Juice WRLD, leaving listeners to imagine how far his potential could've taken him. Other exceptional tracks include "Giddy Up", which pairs veteran hip hop hitmaker Wiz Khalifa with 24kGoldn, the up and coming San Francisco rapper/singer. Established rap artist Kevin Gates joins the otherwise young feature list with the serious "No Option." Another impressive performance comes from The Kid LAROI, the Australian teenager and former Juice WRLD mentee, on his song "Speak." The album showcases some under the radar rappers who perhaps have not had their big break with songs by TyFonatine, Cochise, TheHxliday, StaySolidRocky and lilspirit.
While Internet Money has been around for a few years, this album cements their place in the modern landscape of hip-hop. Excluding veterans Future, Wiz Khalifa and Kevin Gates, this album is entirely comprised of teenagers and twenty-somethings. Nick Mira turned twenty just days before the album release, The Kid LAROI is just 17 years old while Lil Mosey and Lil Tecca are only eighteen. Even more popular artists like Trippie Redd and A Boogie Wit da Hoodie are only twenty-one and twenty-four respectfully. The future is bright for Internet Money and their associates, and "B4 The Storm" proves what many already knew – the youth run the world, or at least the rap game.