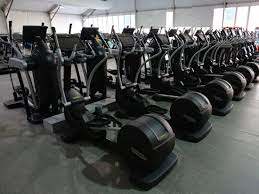 David D'Anniable, Staff Writer|
On Aug. 24, New York State Governor Andrew Cuomo announced that gyms could reopen. All gyms will be inspected before they open to make sure they are meeting all COVID-19 guidelines and requirements.
On Mar. 16, all gyms in New York had to shut down due to COVID-19. Throughout the months of quarantine, Gov. Cuomo decided to open the state back up slowly through a four-phase system. All parts of New York have finally surpassed phase three and have entered phase four. However, gyms will have to follow strict COVID guidelines to stay open.
COVID-19 guidelines will require gyms to run at 33 percent capacity. Members must pass a health screening and they must sign in with their contact information. Masks will be required, and all members must practice social distancing by staying at least six feet apart.
Cleaning and disinfecting supplies will be available to customers and equipment must be cleaned after every use; staff members must be available to clean and disinfect equipment in between uses. Rental equipment must be cleaned and disinfected after being used. Water bottle refill stations are permitted by health officials. Water fountains and communal showers are banned but individual showers/stalls can be used if sanitized after each use. Air handling systems must meet set standards and ventilation systems need to be at least MERV-13(Minimum Efficiency Reporting Value) or greater, to help prevent COVID-19from spreading.
All classes are appointment/reservation only. Maximum class capacity capped at number of people that can follow to the 6-feet social distancing rules, but in no case more than 33 percent of the typical class size.
Gym owners, workers, and members will have to adjust to changes. Lifting at the gym or running on a treadmill will not be the same.