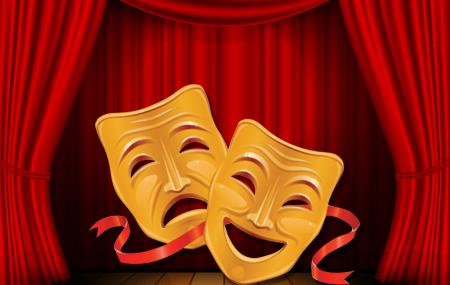 Hannah Lonergan, Staff Writer |
This season's productions for the theatre department will look a little different due to COVID-19. Planning for this semester's productions began last fall, since the department plans the entire season in advance.
Originally, the department had planned to put on "Medea," which is still something in the works for the semester, and a comedy called "Noises Off." The latter of the two focuses on having an audience to enjoy the play and laugh in real time. When last spring's productions were canceled due to the emerging COVID-19 closures in March, the department looked to see what the fall semester would look like as well.
Brainstorming for different possibilities of production occurred over the summer. They had planned to have productions no matter what would happen, hoping that they would still be able to have an audience with students on campus in a hybrid model.
"Medea" had even been planned to be streamed before the college dismissed students earlier this semester. With a live rehearsal, the play would be released as a streamed event on YouTube. After campus residents were sent home, cast members were scattered across the state. Now, they will have to figure out how to stage and film the productions, no matter where they are, then edit the whole piece together for public streaming. The department would still like to debut the play in November as originally planned. The premiere date is still scheduled for Nov. 13 at 7:30 p.m. .
The production of "Noises Off" was canceled over the summer and replaced with another project from the same director. Now, the department will put on "My Father's Dragon," an adaptation of a children's story of the same name. The plan is to stream a live performance of the production, which could be rehearsed by the cast members fully remote in their current locations. These performances are scheduled between the window of Nov. 2 to Nov. 20, focusing primarily on school programs. It will be available for schools to stream if there is face to face learning, or available for students if doing distance learning. Essentially, it would be real actors in real time while streaming.
The student production that takes place every semester will be directed by Emily Kramer, who was scheduled to direct in the spring. Now, Kramer is directing a production of "Love Letters." The production is a two-person play, where each actor is isolated to their own side of the stage. If being performed on stage, audience members and actors would have been following social distancing guidelines. But now, there will be no live production. Rather, it will be a streamed production with a possibly edited version to be released on YouTube.
Though this will most likely be accompanied by multiple technological difficulties, it is a part of the production process. Live theatre performances also come with troubleshooting on the spot, so this is not a new set of skills for students to learn. The theatre department Chair Andrew Kahl notes that the department is not going in blind: "We're having to adapt to the change, but we had prepared knowing that change might come." Directors will now have to figure out how to work with this new media structure, they will have to rethink the sets and plans they originally had.
Mask & Hammer, the theatre club at SUNY Oneonta, produces the student-run production every semester. The production is funded by Mask & Hammer and the only faculty member involved is the club's advisor. Ticket sales from the student-run production go directly back into the budget for the next student-run production. Mask & Hammer have their club meetings every Monday at 4 p.m. on Microsoft Teams. To try to keep spirits up, they play theatre games with a remote spin and discuss how to keep theatre alive during these times. The President of Mask & Hammer, Kylee Thetga, notes that keeping up morale has been hard, but they have been "really pushing everyone to think outside the box."
Thetga reminds us that, "Shakespeare wrote most of his plays during the plague," urging us to rethink our circumstances and still make the best of opportunities.
The shows will go on, despite new concepts of production and different experiences for the students in the shows. Shows for next spring will be decided later in October after the college makes their decision on what modes of learning students will have access to.
Students can find more up to date information about productions on the theatre department homepage. Information on Mask & Hammer can be found on Campus Connection, as well as their Facebook page OSC Mask & Hammer, and their Instagram @oscmaskandhammer.