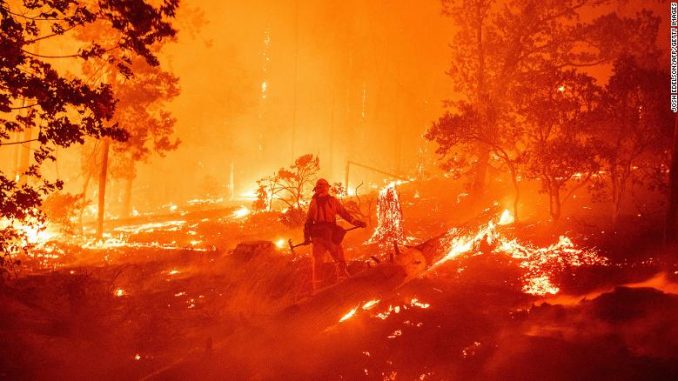 Hannah Lonergan, Staff Writer|
The West Coast, especially California, sees devastating wildfires annually. But, this has been the worst and most active fire season on record. Daniel Swain, a climate scientist with the Institute of Environment and Sustainability at the University of California expects with current fire suppression and containment methods, this fire season will see the most acres burned in history.
In California alone, 3.1 billion acres of land have been burned so far this year, breaking the state's record. Entire towns and communities all across the West Coast have been burned down to the ground.
Although climate change plays a crucial role, most wildfires are caused by humans. One fire in particular, The El Dorado Fire, has consumed more than 10,000 acres and destroyed four homes and six other structures. It started when a firework in a gender reveal party in Yucaipa ignited the area. The family responsible for the fire attempted to put out the flames and call 911 but were not able to do so in time. They will possibly face misdemeanor charges, along with felony charges if someone is hurt or killed. These wildfires are intensified by climate change where they overlap and feed off of each other, inevitably spreading further.
The El Dorado fire is only one of the 28 major wildfires fires currently burning in California. Going for about a week now, the Bobcat Fire has burned 31,991 acres and is, as of Sep. 13, only at six percent containment. Fires in Oregon have burned more than a million acres and more than 600,000 acres have burned in Washington.
At least 23 people have died from these wildfires, with dozens already missing. Officials worry that in the coming days the fires will continue to spread. Thousands of people are being directed all across the state to evacuate. In Oregon alone, more than 40,000 people have already been evacuated due to the spreading of fires and wind bringing the wildfire smoke West towards the coast. Others are in zones that could be possibly evacuated in the coming days.
Not only do the fires pose deadly issues, but the wildfire smoke is also an extreme health concern. When these fires burn buildings and other structures, the smoke begins to carry toxic smoke. Residents that have not been evacuated from the Western states are advised to stay indoors or wear N95 masks if going outside.
With a lack of PPE from the COVID-19 pandemic, N95 masks are in short supply. Community centers in cities such as Seattle and Los Angeles are asking for donations to obtain crucial supplies for those without shelter.
Pictures of red and orange skies have circulated all over social media, bringing an apocalyptic atmosphere to an already unnerving time in history. According to the National Aeronautics and Space Administration (NASA), the sky can be seen with red and orange hues when smoke particles block some of the shorter wavelength colors that come from the sun. Winter is also beginning to roll in, making the days shorter and the skies darker.
Some of these states have been utilizing prison inmates in the fight against these fires. Questions have risen about this possible exploitation of prisoner labor. California's Gov. Gavin Newsom is implementing California Bill AB2147, allowing the inmates who are trying to contain these fires to have their criminal records removed. This will allow them to have a better chance of becoming firefighters in the future, since they've already gained professional experience.
As these wildfires rage through the West Coast, it is a cruel reminder of the intensifying fire seasons climate change has brought. The dangers of arson, both intentional and unintentional, and the destruction of wildlife raise questions about our effects on the planet.