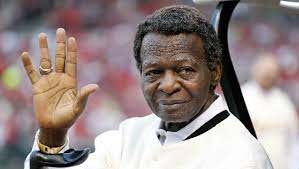 Daivd D'Annibale, Staff Writer|
Lou Brock, legendary Cardinals player, passed away on Sep. 6 at 81 years old. Brock's family planned on having two days of memorial service, one for the public and one private service to honor Brock. On Sep. 11 there was a public viewing held at the Austin A. Layne Mortuary in St. Louis from five P.M. to eight P.M. The viewing gave Cardinals fans one last opportunity to say goodbye. Brock's funeral was held on Sep. 12, after the private service, the family lead a procession to Busch Stadium where they laid a wreath at the Lou Brock statue. The service was live-streamed for the public to watch. Brock brought joy to many Cardinals fans over his career.
Brock enjoyed playing baseball during his childhood which led him to play college ball at Southern University in Baton Rouge, Louisiana. Brock signed his first contract with the Chicago Cubs in 1961. He played in the Cubs' farm system before being promoted in 1962.
While playing in the majors for the Cubs, Brock was an erratic outfielder, struggled to hit and couldn't steal bases consistently. Ironically, that changed after Chicago traded Brock to the Cardinals. It didn't take long for Brock to instantly help the team. He finished the rest of the season batting .364. Brock led the league in stolen bases from 1966-1969 and 1971-1974. In 1974, he stole 118 bases setting a new season record. Brock help lead the Cardinals to a World Series win in 1967 and an appearance in 1968. Brock retired in 1979 and was elected into the baseball hall of fame in 1985. He later returned to the game as a TV broadcaster for the Cardinals, and in 1994 he became a special instructor for the team. He was voted the left fielder on the All-Busch Stadium II team in 2005. In 2015, Brock was voted by the fans as a member of Franchise Four, joining Bob Gibson, Rogers Hornsby and Stan Musial as one of the most impactful players who best represented the history of the Cardinals. In 2016, the organization launched #STLisLou, a season-long campaign to honor and celebrate Lou Brock while raising money for children with diabetes in Lou's name. Brock fought various medical conditions in recent years, including having his left leg amputated below the knee because of an infection related to a diabetic condition in 2015 and a diagnosis of Multiple Myeloma in 2017, but returned valiantly each time.
Brock made a positive impact while playing for the Cardinals and outside the game, creating many great memories over his career and life. He will be greatly missed by former teammates, coaches and fans.