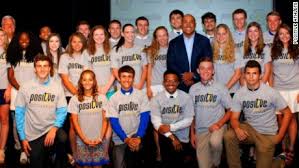 David D'Annibale, Staff Writer|
As the COVID-19 outbreak continues to spread, rocking many sectors of life countless individuals are being left jobless. Professional athletes have started to work together to give back to the community to aid the fight against COVID-19. This includes donating money to hospital workers, covering salaries for stadium workers and raising money by hosting gaming tournaments.
NFL players and their families have joined the fight to end the COVID-19 outbreak. Adam Thielen and his Thielen Foundation partnered with KFAN 100.3-FM and iHeart Radio-Minneapolis for a Minnesota COVID-19 Relief Virtual Radiothon. They worked from 6:00 a.m. to 6:00 p.m. and raised more than $280,000.
The Hauschkas paid to have 500 meals provided to hospital workers at Erie County Medical Center and Buffalo General Medical Center. The food was prepared and delivered by the Grange Community Kitchen in Hamburg. Sean Lee is teaming up with Albertsons Foundation, Tom Thumb Foundation and the Snavely Foundation to provide 50,000 meals for children at North Texas Boys and Girls Clubs.
MLB players have also stepped up to help people in need as the 2020 season is suspended. Trevor Bauer started a GoFundMe for Reds' workers affected by the league shutdown.
Justin Verlander said he will donate his weekly paychecks to various charities that are helping people impacted by the COVID-19 pandemic. Thirty players have taken part in an MLB gaming tournament to help raise money for charities that benefit boys and girls clubs affected by COVID-19. Every participating player will receive $5,000 for an affiliate of the nonprofit in their community. The winner will receive an additional $25,000 for their local Boys and Girls club affected by the pandemic.
NBA players have also helped during the COVID-19 pandemic. Kevin Love became the first player in the league to donate money to event staff at Rocket Mortgage Fieldhouse when he announced on social media that he would give $100,000 to its workers.
Pistons star, Blake Griffin will be donating $100,000 to the workers inside Little Caesars Arena in Detroit, per the Detroit News' Rod Beard. Joel Embiid says he is donating $500,000 to COVID-19 relief and aiding team workers who are taking temporary salary reductions during the shutdown.
Athletes' efforts to raise money and spread awareness has had a positive impact on our country and has motivated others to become involved in relief efforts.