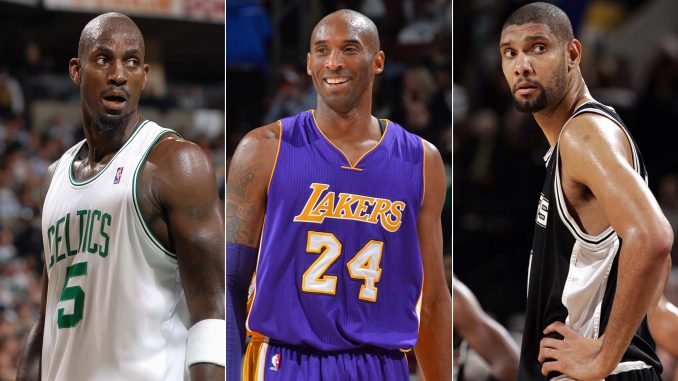 David D'Annibale, Staff Writer|
On April 4, the 2020 Naismith Memorial Basketball Hall of Fame announced eight new inductees. The list includes NBA stars Tim Duncan, Kevin Garnett, the late Kobe Bryant, plus former WNBA player Tamika Catchings. The coaches inducted include former Houston Rockets coach Rudy Tomjanovich, former collegiate coach Eddie Sutton, Baylor women's basketball coach Kim Mulkey, former women's college basketball coach Barbara Stevens and former Fédération Internationale de Basketball and International Olympic Committee executive Patrick Baumann.
Inductee, Kobe Bryant tragically passed away in January after a helicopter crash that took the lives of everyone on board including his 13-year-old daughter Gianna. Bryant played 20 years in the NBA with the Los Angeles Lakers. His accomplishments include five NBA championships, 15 selections for the ALL-NBA team, two scoring titles in 2006 and 2007, four All-Star Game MVPs (Most Valuable Player), two NBA finals MVPs and the all-time scoring leader for the Lakers. Bryant also helped lead Team USA to a gold medal in the 2012 Olympics.
Tim Duncan played with the San Antonio Spurs for his entire 19-year career. Duncan helped lead the Spurs to win five NBA championships, three finals MVPs and was awarded as the most valuable player in the league in 2002 and 2003. Also, Duncan made the all-star team 15 times. He is now a part of the Spurs coaching staff learning from head coach Gregg Popovich.
Kevin Garnett played in the NBA for 21 seasons for three different teams: the Minnesota Timberwolves, the Boston Celtics and the Brooklyn Nets. During his career, Garnett didn't win a championship until he was traded to the Celtics. Then, in 2004, Garnett earned the league MVP award and was selected to join the All-NBA Team three times. Garnett also won a gold medal with Team USA in 2000. Garnett is known as one of the best forwards in NBA history and impacted the league greatly.
WNBA player Tamika Catchings played 15 years with the Indiana Fever. Catchings helped lead Indiana to their first championship and won a finals MVP. She was named league MVP in 2011, won four gold medals and is the all-time steals leader in the WNBA.
While there is always a debate of whether or not someone deserves to enter the Hall of Fame, these players and coaches all have a significant number of accolades and their contributions to the game are still seen today.