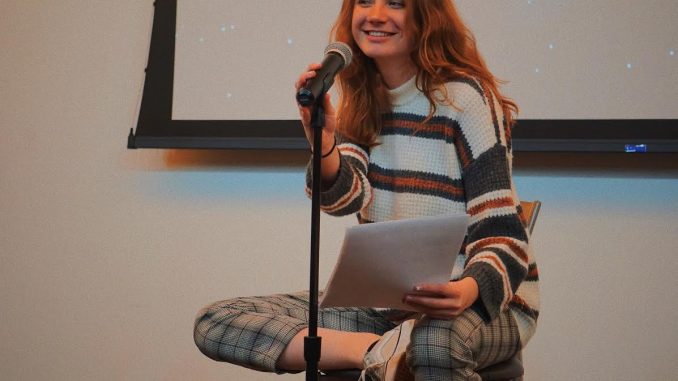 Daniella Fishman, Staff Writer |
The new and improved Creative Writing Club is back and ready to help get your artistic juices flowing. Every Thursday at 3:00 p.m. in Schumacher 206, Creative Writing Club hosts a safe space for writers to come and meet with fellow imaginative thinkers. At their meeting on Feb. 27, members were welcomed by upbeat music and the club's executive board. Before members were given the go-ahead to work on their respective writings, the e-board discussed all things English-related happening on campus. President Hannah Lonergan informed members about the upcoming New Critics conference as well as Art and Scope's open submissions for the newest issue. After discussing future events, members were presented with writing prompts they could experiment with at Creating Writing Club. Though these prompts are optional, writers are encouraged to use them as a creative spark for a possible short story to share with everyone. In light of the recent snowfall, that meeting's prompts were all snow-related. Markers, highlighters and decorative tape were made available to everyone in case someone wanted to "visually spice up" their story.
As members began their pieces, all chatter in the room subsided and the only thing you could hear was the chaotic typing on keyboards, the sound of pen to paper and the soft music put on by the e-board. While everyone got lost in their work, Lonergan told the State Times about Creative Writing Club's tumultuous past. The Creative Writing Club was 'frozen' by the Student Association due to the previous e-board's slow disbandment. As a result, Creative Writing Club had no one to support it; that was until Spring of 2019. With a new and motivated e-board, Creative Writing Club is back to serve as an outlet for any and all who enjoy writing.
In her interview, Lonergan highlighted the events put on by the Creative Writing Club, their most popular being their "Open Mic Nights." Whether you are a writer, a poet, a musician or someone wanting a creative outlet, Open Mic Nights are your place to showcase your creativity. The next Open Mic Night is March 27 at 7:00 p.m. in Union Square located in Hunt Union. April 15 is the second, and last, Open Mic Night of the semester and will be held at 7:30 p.m. in Union Square. However this time, Creative Writing Club plans to provide free pizza at the event! The week prior to Open Mic Nights, they host "Critique Day," a meeting in which you could come and get any work of writing edited or bounce ideas off of other creatives. Writing retreats are also popular amongst members. Writing retreats happen once or twice a semester where the club goes to College Camp and lets nature inspire them. Usually, this event is held before finals as a way to de-stress before the chaos. Lonergan told the State Times that the most common thing they hear is people telling them, "They wish they could write," and her response is always, "Everyone can write. That's why we give prompts to inspire something in someone. We encourage all that are interested to join and see what stories you can think of!"
Creative Writing Club is held every Thursday at 3:00 p.m. in Schumacher 206. Stop in and check it out! Who knows? Maybe you could write the next great American novel from a Creative Writing Club prompt.