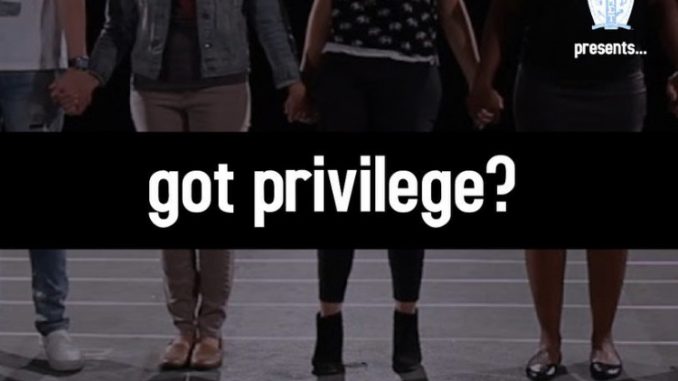 Daniella Fishman, Staff Writer |
The sisters of Mu Sigma Upsilon hosted a "Got Privilege" event to bring more awareness to the fact that privilege is not just a racial issue. Held on Feb. 27, 2020 in Fitzelle 202, presenter Karen Pantaleon spoke to the audience about issues of socio-economic, gender and educational privilege that commonly go undiscussed. To highlight this further, Pantaleon asked four volunteers to perform a Privilege Walk. The walk consisted of 10 questions and if they applied to you, you took a step forward. By the end, the person who was furthest up was the "most privileged." The four volunteers ranged from different family, cultural, racial and sexual backgrounds. The walk provided excellent insight into the hidden struggles underprivileged persons face on a day-to-day basis.
Pantaleon showed a short clip from a Ted Talk discussing the "Culture of Power" and the importance of recognizing privilege. In the end, the discussion was opened up to the audience to discuss their own personal privilege. Some discussed privileges they weren't aware they had before the event and what they plan to do with this information now that they understand privilege. The sisters of Mu Sigma Upsilon have hosted multicultural events in the past to educate the students of SUNY Oneonta on racial/social issues to better our community. Other events hosted by the organization include the Feb. 6 showing of the new "Harriet Tubman" movie for a discussion on the importance of Black History Month. Though the "Got Privilege" event lasted only 30 minutes, it was extremely informative and a conversation everyone needs to have. Understanding your personal privilege is beneficial in grasping the difference in lifestyle and struggles someone less privileged than you might be experiencing. In turn, being able to "check-your-privilege" may help stop unintentionally causing harm to others.
In a statement to the State Times, the Mu Sigma Upsilon organization described themselves as "dedicated towards bringing awareness to many different issues in today's society. We were the first multicultural organization established in the nation. Our chapter, which is called Nysa, was founded on March 26, 2005, here in SUNY Oneonta, and we were also the first multicultural organization founded on campus. Every semester we host educational and interactive programs on campus in hopes of informing students of important issues going on in society that we may not be aware of." For their recent "Got Privilege" program, the Mu's "focused on differentiating the different kinds of privileges that exist. Society tends to box certain things as privileges and forgets about the outskirts."
When asked about their inspiration for their program they stated, "It's important to highlight the obvious privileges that exist but without ignoring others which can be just as detrimental. We were inspired by some videos that we found on social media that tested this exact theme and thought it would be a great activity to do with college students. We hope to build an inclusive community and campus where everyone and anyone can feel free to voice their opinion regardless of race, religion, gender, and more."
Thank you to Mu Sigma Upsilon, Inc. Nysa Chapter for putting on a wonderfully informative and thought-provoking discussion.