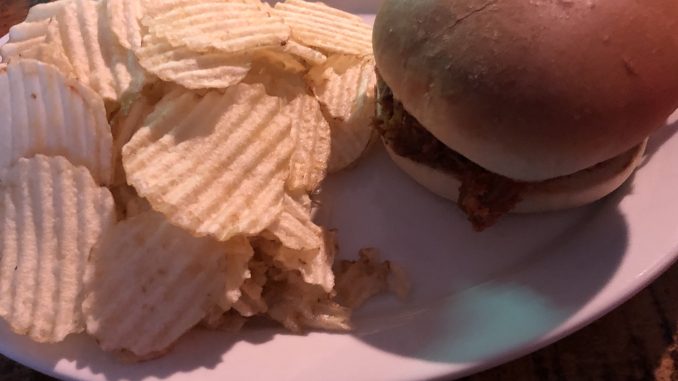 Daniella Fishman, Staff Writer |
For this installment of Dine with Dani, I decided to go somewhere different than the restaurants I've previously gone to. I decided to check out J&D's Wagon Wheel, a bar with a surprisingly atypical food menu. While most bars have a short menu compiled of peanuts, wings and maybe burgers, J&D's Wagon Wheel surprised me with their selection of seafood, hotdogs/sandwiches and appetizers. Since I knew that this dining experience would be unlike the previous ones I had, I decided to bring some friends along with me for moral support and a reason to order a bunch of food!
My friends and I entered the pub with open minds and grumbling tummies. Our shared first impression of the place was that it was probably the most 'country' experience we've had in Oneonta. The pub was decorated like a saloon— wooden varnish on everything, fake wooden gates, country music blasting and signs that referenced the good ol' country lifestyle. We sat down at a table with giant Jenga already set up on it. For a Saturday night, the place was relatively quiet. The establishment was inhabited by a collection of locals hanging out by the bar and pool table, while my friends and I (being the only underaged students there) were the only ones there to actually eat. This shocked me as their menu was fairly extensive for a pub and featured some delicious-sounding meals. When we finally got situated, the waitress came over and was visibly shocked to see that we were all just there for the food. It struck me that this place probably only gets customers there to drink, rather than students there to eat.
My friends and I ordered a variety of different foods that the Wagon Wheel had to offer. As an appetizer I got the fried calamari, and for an entree I ordered the BBQ Pulled Pork Sandwich on a regular bun with a side of chips. My friend James got the Meatball Hoagie with a side of beer-battered fries, and Eric got the very daunting Foot-long Hot Dog with a side of regular fries. I got my calamari first, and our initial impression of the appetizer was the fact that the bar definitely didn't "cheap out" on the portion sizes. There was enough calamari for me to be comfortably satisfied while still being able to share! They were crunchy on the outside, chewy on the inside, and not stringy as some low-grade calamari might be. It actually tasted like quality squid! Next, my pulled pork sandwich. It was an average meal, nothing that I didn't expect. The plate was just a handful of chips and pulled pork on bread, that simple. The pulled pork was delicious— sweet yet tangy, and the meat was pretty good for bar food.
All in all, I enjoyed my meal but wish there was something more to the plating, maybe a pickle to balance out the meat and carbs from the bun and chips. When I asked my friends to describe their food, Eric, who got the foot-long hot dog, told me that it was a "perfectly cooked dog." The hotdog came with a bun and a bucket of sauerkraut placed on top. He described the sauerkraut as tangy and provided a good balance between the heaviness of the "dog." James' Meatball Hoagie was a monster of cheese and meat! He described the four meatballs submerged in a giant glob of melted cheese as "firm, yet chewy with the cheese. Definitely need a fork and knife to eat this." The beer-battered fries were the star of the night! They were thick spirals that were crunchy and chewy! I highly recommend these over the regular fries as I personally found the regular fries to be a bit stiff, whereas these were mouth-wateringly delicious!
J&D's Wagon Wheel is a traditional pub. Their drinks are relatively cheap and I could only describe their food as "gourmet bar food." While it isn't top-tier Michelin chef food, it does run laps around the traditional garbage sold in club-style bars that are popular among students in Oneonta. J&D's Wagon Wheel is a pub that I would 100% recommend for a quick bite to eat with friends. They weren't too busy for a Saturday night, which made the location perfect for a bite and a hang out.
I had the opportunity to interview one of the bartenders working that night, Joe Vanwarner, and he told me about the events that happen almost weekly at the Wagon Wheel: Trivia night every other Thursday (in which a lucky participant could win a prize) and Karaoke night on the off-weeks. They also work with local bands to put on shows at the bar. Those events seem to be the most popular and more students come to shows rather than a casual night out. J&D's Wagon Wheel is different from most 'typical night out' bars that students are familiar with. Therefore, I believe it deserves more attention. The food is great and the owners have agreed to a discount for students!
If you bring in a student ID to Wagon Wheel, you could get 15% off of your food (this does not apply to drinks or alcohol sold there). Go check out the feel-good food at Wagon Wheel, and don't forget the beer-battered fries!