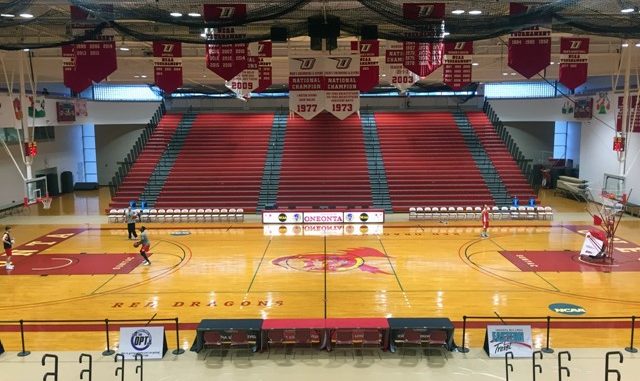 David D'Annible, Contributing Writer |
For the first game of the night in Dewar Arena, the Oneonta Women's Basketball team played Brockport at home with 217 in attendance. Oneonta won 73-65 after trailing 50-47 entering the fourth quarter, a deficit they overcame by outscoring Brockport 26-15 in the fourth quarter. Senior Olivia Allrich led Oneonta with 20 scoring points; senior Leanne Corso led the team with nine rebounds and scored 12 points; and freshman Olivia Dobrovosky led the team with six assists and scored 13 points. Brockport was led by Bailey Pratt, who scored 23 points in the loss. Oneonta women's basketball team beat Brockport twice this season. The first win came on Jan. 17 when Oneonta won 55-39. With this win, the Oneonta women's basketball team improved their record to 7-11, as Brockport women's basketball team fell to 9-11.
In the second game of the night, Oneonta's Men's Basketball team took on Brockport, but their comeback efforts fell short and Brockport won 85-75. After the first half of play, Oneonta trailed 36-35. They ended the first half on a 15-4 run, which helped keep the game within one point. In the second half, Oneonta was outscored 49-40, and Brockport put an end to Oneonta's five game winning streak. A 15-5 run by Brockport brought the score to 75-60, which proved to be too much to overcome for Oneonta. Junior Andres Rivera led Oneonta in scoring with 25 points; senior Harrison Deegan put up 23 points in a losing effort to Brockport; graduate student Tyler Collins helped lead Brockport to the win with 22 points. In the game, Oneonta shot 32 percent on 3-point attempts and made 19-25 free throws. Oneonta turned over the ball 18 times compared to 14 turnovers by Brockport, and were was out-rebounded 41-37. Brockport has now won both matchups of the season, the last coming on Jan. 17 when Brockport won 81-61 at their home court. With the loss to Brockport, Oneonta's record sits at 13-5, while Brockport's record goes to 17-3.
Oneonta's Men's and Women's team will have a busy weekend, going on the road to face both Buffalo State and Fredonia. If you want to find out more about Oneonta sports, visit oneontaathletics.com.