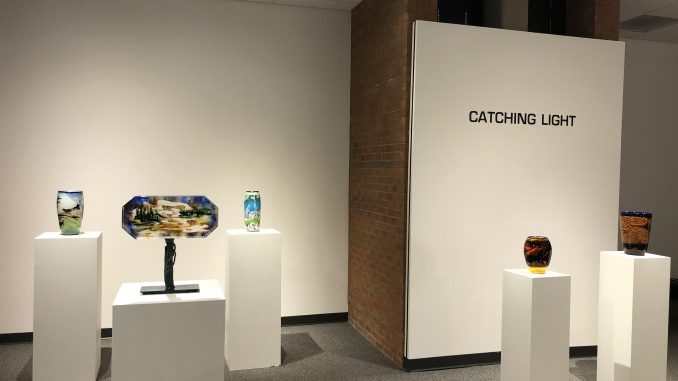 Daniella Fishman, Staff Writer |
SUNY Oneonta is currently hosting the "Catching Light": 3 Glass Artists Exhibit at the Martin-Muller Art Gallery located inside the Fine Arts Building. This exhibit explores the creative ways three artists show their manipulation of glass and light to design beautiful works of art. Erik Halverson, Fred Tschida and David Wilson collaborated to make the "Catching Light" exhibit a unique blend of light control and glasswork.
Halverson commented on the exhibit, stating, "This work represents two paths of interest grounded to the same phenomenon, that being (light), to the phenomena relative to the material (glass)… To emphasize this phenomenon, I contrast how image, light, color and form within the material celebrates that light (life) that is the utility. The vessel dually filled with life held high." Halverson is a glass artist at Hartwick College and has had work featured in national craft fairs, museums and gallery exhibitions.
Tschida is an esteemed professor at Alfred University as well as the co-founder and director of the Museum of Lumerous Phenomena. Tschida's artist biography in the "Catching Light" news release describes his artistic expression as an exploration in "the luminosity of light in the glass with unorthodox approaches using glass as light with neon and blacklight forms created by motion and or the recorded moments of light in the glass." His work was featured in the Corning Museum of Glass in New York.
Lastly, Wilson is described as a "contemporary stained glass artist with an extensive career in architecture application of the creative medium of light and glass." His works were featured at the Stamford Courthouse in Stamford, CT, as well as the Airtrain Monorail in Newark International Airport.
"Catching Light" features an assortment of different light-bending displays that perfectly show off the three artists' differing styles and visions. The exhibit shows different glass pieces, along with sand-casted glass, architectural designs that incorporate glass/light work as well as stained glass art outside of the exhibition, hanging on the windows inside of Fine Arts. My personal favorites from the exhibit were the sand cast glass piece "Dreams," by Halvorson, and the neon black-lit wood piece "Stick Theory," by Tschida. "Catching Light" will remain on display until March 17. It is free admission, so I recommend that students see this exhibit while they can. It offers new insight on the ways to look at how glasswork and light manipulation can create a work of art not usually seen by the untrained eye.