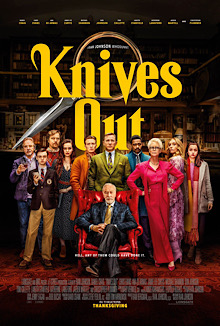 Zarina Sotero, Staffwriter |
"Knives Out" is a murder mystery with a vintage feel to it. It is a classic whodunit that keeps the twists coming with every line out of Daniel Craig's mouth. You think you know what happens, who the suspect is, how it ends with every scene, until the next scene completely disproves the theory you have come up with. The characters feel authentic and well written enough that it would be plausible for any of them to be the suspect. Although this movie is a murder mystery, director and screenplay writer Rian Johnson utilizes humor to juxtapose the seriousness of the topic and add some comic relief.
"Knives Out" has an incredible cast with many familiar faces such as Daniel Craig, Chris Evans, Jamie Lee Curtis, and Katherine Langford. Craig plays Detective Benoit Blanc very well and even did a pretty entertaining southern accent, which other characters make sure to poke fun at throughout the movie. Craig still brings that 007 mystery to this new character with the addition of charm, humor and wit. It was refreshing to see Evans play a character that wasn't "America's golden boy." His character is nothing like Captain America, so it allows the viewer to see his range of acting skills play out in this movie. Ana de Armas was a new face, but she made sure to not let herself become lost behind all the popular faces in the cast. She has the face of a sweet, innocent, good girl, which is exactly who her character is. Her character is so likable and makes you want to root for her because of how good a person she is and how pure her heart is.
Costume designer Jenny Eagan made sure to create wardrobes that fit each of the characters perfectly. Craig's wardrobe was very posh and sophisticated, which shows his character is a prestigious detective. The wardrobes of the Thrombey family members perfectly depict their class and money. Their wardrobes also show their individual personalities. Curtis' character, Linda, is the most successful child of the late Harlan Thrombey. Her outfits are bright, loud, but still classy, which represent her personality and extreme success. Evans' character, Ransom, dresses exactly how he acts. Ransom is bossy, snobby, and rich; he's always wearing sunglasses and dresses in high-end clothing. However, he still tries to act like the good guy so he wears cozy sweaters, like the infamous fan-favorite cream sweater. Armas' character, Marta, is nothing like the Thrombeys–she isn't rich. She is from a lower-class family, and she is much more reserved than the others. Her wardrobe, mostly consisting of jeans, sweaters, and sneakers distinguishes the drastic class difference between herself and the Thrombeys, even Detective Blanc and the other cops.
The set of "Knives Out" sets the tone of the entire movie. The Thrombey mansion is secluded, large, and the interior looks exactly like what one might imagine a mystery writer's house would look like. The interior has old wallpaper, vintage furniture, and is filled with creepy décor. Let's not forget the huge knife art installment in one of the rooms of the house. The small town shown in the movie is seemingly innocent and quiet, the perfect setting for a murder mystery to take place. Overall, "Knives Out" is a must-see movie for its mystery, charm, humor, and twists.