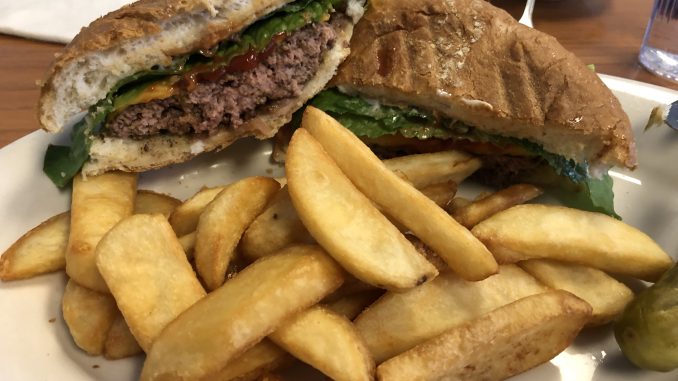 Daniella Fishman, Staff Writer |
For the first installment of "Dine with Dani," I visited an old freshman year favorite of mine, The Plaza Diner. Located next to Magic Nails and the OPT Bus store, The Plaza Diner has been a tried and true among Oneonta diners. When I first entered the establishment, I was shocked by how empty it was. Being that it was lunchtime on a Friday, it was weird to see just three other customers. Nonetheless, I greeted the waitress and sat down. I ordered a classic cup of coffee to help me peruse through their menu. After some careful consideration, I decided to forgo my usual meal of chocolate chip pancakes and ordered something way out of my comfort zone; a medium-done cheeseburger with fries and a side of coleslaw. I figured an all American meal would balance my all American diner experience. The waitress came quickly and took my order. As I sipped on my coffee, I noticed the walls were decorated with warm images of Santorini, Greece, juxtaposed with the large window showing cold and frigid Oneonta; I thought this was humorous and welcomed the irony.
My food came a quick 10 minutes after ordering, something I found gratifying after starving in my classes all day. I cut my burger in half, a bit disappointed, to see my burger cooked medium-well. As I took my first bites, the burger was juicy and delicious. The patty was thick, and the bread was toasted and buttered, YUM! The fries were my favorite, thick potato wedges that were crunchy on the outside and filled with gooey potatoey goodness on the inside. The coleslaw was just like any other diner coleslaw, sweet yet tangy and super crunchy (which I enjoyed most of all.) Unfortunately, after I bit into the other half of my burger, I realized it was unevenly cooked. Much to my surprise, this half was dry and borderline flavorless, but I figured it was because it might have cooled. Regardless, it was a weird burger.
I had a chance to meet and interview the owner, Takis Karabinis, after my meal. Karabinis told me that he opened The Plaza Diner originally with his brother in 1985. I asked him what hidden gems he would like to highlight, and he told me that his whole menu is a gem! "From breakfast, to lunch, to dinner, students that come here love everything on the menu!" he exclaimed. When asked what his favorite item on the menu was, his face lit up, and he just said one word… "Paninis." Which is understandable since the paninis make up a considerable section of the menu!
While I usually enjoy my dining experience at The Plaza Diner, this time, the burger left something to be desired. The establishment is great for if you're running late and need a quick bite, and the service is fast and polite! When I go there next, however, I think I'll stick with my standard order of chocolate chip pancakes. I'll maybe even go a little nuts and order the Cap'n Crunch French Toast, which I believe deserves more recognition than it is given. The Plaza Diner is open every day from 7 a.m.-8:30 p.m. Why not stop in and give it a go!