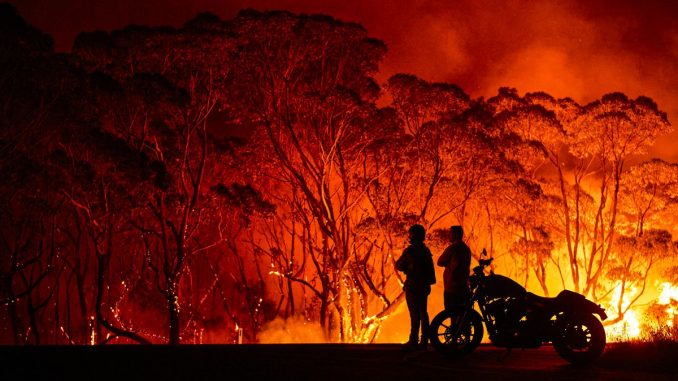 Zarina Sotero, Staff Writer |
Australia has been fighting devastating bushfires since late July 2019. Bushfires are primarily ignited by natural causes including lightning strikes on dry vegetation. Once these fires start, surrounding areas are at risk due to embers being blown by the wind, causing fire to spread to new areas. Bushfires can also drive thunderstorms, increasing the risk of lightning strikes and more fires.
At least 33 people, including four firefighters, have died with many more missing since the start of these fires. More than 11 million hectares (27.2 million acres) of bush, forest and parks across Australia have been scorched. Over a billion animals have also died as a result of deforestation and the fires. Every state in Australia has been affected by the fires, but New South Wales (NSW) has been hit the hardest. In NSW alone, fire has affected more than five million hectares of land.
A major hazard stemming from the bushfires is smoke. Canberra, the nation's capital, has seen some of the worst smoke pollution. According to Swiss-based group AirVisual, Canberra air quality was rated the third worst of all major global cities on Jan. 3. The bushfires produced so much smoke that a giant plume of smoke made its way to New Zealand on Jan. 5. The smoke turned the skies of New Zealand an apocalyptic and eerie orange. Due to high winds, smoke was making its way around the globe, polluting the air as far away as South America.
The fires are still ongoing in the NSW today, causing authorities in the Australian Capital Territory (ACT), which houses Canberra, to declare a State of Emergency on Friday, Jan. 31. The declaration of emergency follows weeks of raging fires near Canberra, which even shut down the city's airport at one point when flames approached the perimeter. The State of Emergency gives extra power and resources to fire authorities. Officials say this is the worst fire threat to the territory in nearly two decades. This refers to the fires that hit the area in 2003, which killed four people, injured 500 and affected 470 homes. Chief Minister Andrew Barr told reporters on Friday, "There's now no higher priority for the ACT government at this time than the bushfire threat." Mr. Barr has warned that these fires "may become uncontrollable" as temperatures climbed to 40 degrees Celsius (104 degrees Fahrenheit) and were fueled by strong winds. The State of Emergency will be in place for "as long as Canberra is at risk."
Bushfires near Canberra eased up on Monday, Feb. 3 as temperatures dipped to about 28 degrees Celsius (82 degrees Fahrenheit). Although the fires have eased, officials warned that heavy smoke was set to blow into Canberra due to a shift in the winds. The ACT Emergency Services has also declared a Total Fire Ban on Feb. 2. This Total Fire Ban restricts people from lighting, maintaining, or using a fire in the open air; using fireworks in the open air; undertaking a high-risk activity like welding, grinding, soldering, and gas cutting; and using slashers and harvesting machinery in rural areas.
To support fire and animal relief efforts, you can donate to the Australian Red Cross, the New South Wales Fire Service, the South Australian (SA) Country Fire Service, Tasmania Fire Service, the Western Australia Fire Service, and WIRES.